Terrance Yee loves space, so much so that the 45 year old spacecraft engineer, who lives in San Diego with his wife of 21 years and two of their three kids (the oldest is in college), is firmly convinced that the future of humanity lies beyond earth. To that end, he recently partnered in the company
Black Sun Planetary Solutions
, a cutting-edge, solar startup created to raise the funds necessary to advance breakthrough research and technologies that would cut the billions of dollars needed to send things into orbit by as much as 99 to 99.9 percent. It's heady stuff and Yee has the chops to make it happen. He's been in the space industry for nearly 23 years, working first for large companies and then a series of small ones, building complete satellites and other spacecraft. He's worn a lot of different hats as well, from managing a multi-million dollar rocket program for the Air Force to becoming the chief engineer for several spacecraft, which culminated in his team launching a communications satellite at the end 2012. Yee has five seriously awe-inspiring tattoos, one for each of the major space projects that reached hardware stages, in which he played a lead role. One of his tattoos is so true to life, that it averted a disaster.
How old were you when you decided to get a tattoo and what prompted that decision?
When I was 32, my wife decided to get a tattoo which then led me to consider getting one as well. I thought that it would be a cool thing to do together as a couple but I wanted to make sure that I selected something that was meaningful to me and unique.
Tell us about that first tattoo.
The first one I got was of the NASA satellite we were building at the time called CHIPSat, which stands for the Cosmic Hot Interstellar Plasma Spectrometer satellite. We had just finished our Critical Design Review after spending about two years designing the satellite and building and testing the prototype parts. This is usually the final step before beginning construction of the real satellite, so I knew it would be unlikely that any major changes would be made after this point. I figured that revising a drawing on paper might be easy, but once it was on skin I was loathe to make any further edits. I also checked with our customer first to be sure I wouldn't have to censor the final product on my arm to protect any sensitive secret technologies.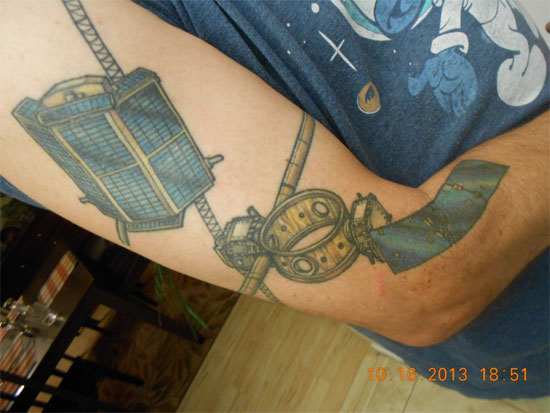 Out of the five, which one is your favorite?
I think my favorite is of the TacSat-2 spacecraft. This is a spacecraft that we built for the U.S. Air Force to host over a dozen technological experiments. I served as the integration and test lead for a while and eventually as the chief engineer and I also wrote some of the key software for it, so I was able to be a big part of the effort, including flight operations. As I did with CHIPSat, I waited until the design was pretty stable but in this case, at the last minute two of the experiments we were going to fly didn't make the final cut so they only exist on my tattoo.
TacSat-2 is the one that saved the day. How did that happen?
One of the most memorable parts of this mission was early flight operations just after launch. Some of the mission was classified so we worked in a vault room on a U.S. Air Force base protected by layers of security, fairly isolated from most of our resources and materials since we had to strictly control what came in and out. Right after launch we had a spacecraft emergency nearly resulting in the loss of the mission. We were feverishly working to save the spacecraft and my tattoo was often the only drawing we had available to work on. On several occasions we would refer to the tattoo and I'd move my arm to simulate maneuvers we were planning. We eventually returned the spacecraft to full functionality and it completed its mission. I think that might be the only time I'm aware of that a tattoo has helped save a spacecraft.
Who created and implemented the artwork?
In each case I would start with the CAD model of the spacecraft and work with one of the mechanical engineers on the program to produce a view of the craft that I liked. Then I would take the CAD view and some sample pictures or pieces of the real materials in to Red Sky Tattoo in Castle Rock, CO and give them to Jim Karanik. I chose Jim and Red Sky Tattoo after a detailed search in Colorado. His shop had won more awards than any other in the state at the time. Jim didn't do my first tattoo, but he upgraded it to include consistent lighting and shading as well as added some more detail to make it more realistic after he did all the rest.
Are you planning any more tattoos?
When I have another lead role on a spacecraft development I will add that to the fleet. Once I retire I'm considering adding in the black of space with stars and maybe earth and sun to the background of the existing tattoos to complete the sleeves, but that's a long ways away.
Have you ever gotten any flack, or have they ever affected your employment in any way?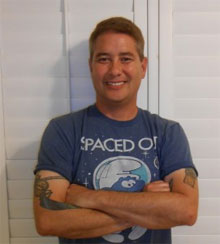 For each of these projects I made sure that the customer was OK with my having public artwork of their craft. In the case of the Air Force projects, the easiest way to do that was to include the picture I wanted to use in a professional paper and then make sure that it went through the standard approval process prior to public release. I do wear long sleeves whenever I interview for a new job or meet potential clients for the first time, but so far, once folks see them they always react favorably. Customers are generally impressed with my dedication to the project. I think they're comforted by my having "skin in the game."