[caption id="attachment_6600" align="aligncenter" width="600"]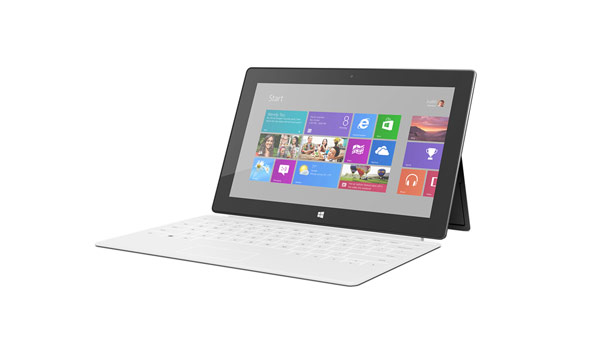 Microsoft decided to load its first Surface tablet with Windows RT.[/caption] Back when Microsoft realized it needed to take a portion of the mobile-device market back from Apple's iPad, company executives made a radical decision: create a version of Windows 8 (then in development) capable of running on the ARM chip architecture that powers an overwhelming percentage of current tablets. Microsoft gave this ARM-ready version the name "Windows RT," the better to differentiate it from Windows 8, which runs on traditional x86 architecture. But at least one hardware executive is arguing that Microsoft made the wrong decision in naming the two versions. As quoted in
The Australian Financial Review
,
Dell vice-chairman Jeffrey Clarke told an audience at last week's Dell World conference in Austin, Texas that he had warned Microsoft CEO Steve Ballmer about the Windows RT name. The "Windows" brand name, Clarke apparently told the CEO, was should be limited to operating systems capable of running Windows legacy software. As Windows RT does not, he felt it should be given a different moniker. While it's unusual for executives from a Microsoft hardware partner to so candidly speak their mind about Windows, it's not the first time it's happened in the context of Windows 8. In the months heading up to the operating system's release, an Acer spokesperson
told Bloomberg
: "We think that Microsoft's launch of its own-brand products is a negative for the whole PC industry."
Intel also had to push back against rumors
that CEO Paul Otellini had criticized Windows 8 in a private meeting with employees. In addition to releasing Windows 8 to its hardware partners, Microsoft also constructed an in-house tablet it named Surface. The first Surface device runs Windows RT. Research firm IHS iSuppli estimated Surface RT sales at more than a million units in the fourth quarter of 2012,
according to CNET
. Research firm Detwiler Fenton offered a slightly lower estimate of total Surface RT sales—roughly 500,000 to 600,000 units,
according to Forbes
. (Both those numbers lag well behind Apple's iPad, which sold 14 million units last quarter.) In January, Microsoft will launch Surface Pro, a version of the device running Windows 8 on an Intel Core i5 chip. Unlike Surface with Windows RT, it can actually run those Windows applications developed for x86 processors. However, the device will have approximately half the battery life of Surface RT, or around four hours, and require buyers to put out a not-inconsiderable amount of cash: the 64GB version of the device will retail for $899, with the 128GB version coming in a little higher at $999. That's considerably more expensive than other tablets on the market, not to mention a number of laptops. Whatever the possible confusion over Windows RT and Windows 8, the new operating system hasn't been a flop: Microsoft claims to have sold some 40 million Windows 8 licenses thus far. That being said, research firm The NPD Group claims that
sales of actual Windows devices are down some 21 percent from last year
, throwing into question how many of those sold Windows 8 licenses are actually making it into the hands of consumers and businesses.
Image: Microsoft