[caption id="attachment_9595" align="aligncenter" width="618"]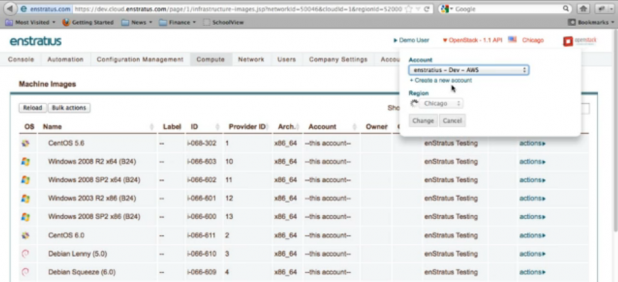 Enstratius offers tools for cloud-platform governance and application automation.[/caption] Dell has acquired Enstratius, a cloud-software and consulting company, for an undisclosed sum. Enstratius offers tools for cloud-platform governance—i.e., the access controls, key management and encryption, and auditing issues that drive so many administrators absolutely insane—as well as application automation. Its platform supports a variety of compute and storage clouds, including AWS, Azure, HP Cloud, OpenStack Swift, Citrix CloudStack, and others. Dell's recent burst of acquisitions seems designed to accelerate its transformation into a services company—a potentially solid strategy, given the increasingly anemic nature of the PC manufacturing market. Back in December,
Dell offered a preview of its private cloud
, built on OpenStack; at the same time, it launched a set of services for business-needs assessment, data-collection process, remote monitoring, and other functions. If Dell wants to become one-stop shopping for companies' cloud needs, however, it faces some stiff competition from IBM, Oracle, Hewlett-Packard and a variety of other IT vendors with sizable cloud-services offerings. As a way of winning that war—or at least making a solid showing—Dell could leverage its extensive array of enterprise clients. But given the rate at which the cloud and services industries are evolving, and the sheer number of offerings on the market, it's unlikely that any one company can simply rely on its legacy to bring in further revenues. If nothing else, the acquisition shows that Dell is still capable of operating despite the chaos of its past few months. In February, CEO Michael Dell and a group of investors (including Microsoft)
announced plans
to take the company private again; the following month, billionaire activist-investor Carl Icahn and the Blackstone Group made their own bids for Dell.
While Blackstone seems out of the running
, the whole going-private saga could undergo another few twists and turns before reaching its conclusion.
Image: Enstratius