With Detroit mired in bankruptcy, Michigan Gov. Rick Snyder is floating a turnaround plan based on an influx of skilled immigrants to fill a talent gap in the city's workforce. He's proposed asking the federal government
to grant 50,000 visas
over five years to international workers with advanced degrees as long as they move to Detroit. Detroit Mayor Mike Duggan is on-board. "In order for Detroit to grow again, we need highly trained workers to move in, open businesses and raise their families," he said in a statement.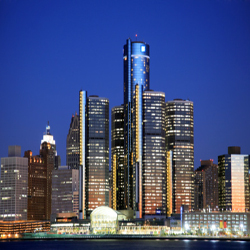 See our special report on H-1Bs
Tim Bryan, CEO of enterprise software vendor GalaxE Solutions, also cheered the proposal, telling
MLive
, "We have a lot of individuals in our international offices that would be very interested in coming and living and working in Detroit. That means making their homes here, paying taxes here and supporting the local economy and continuing the growth of Detroit as an IT hub." Snyder's office did not reply to our request to discuss the proposal.
Visas for Advanced Degrees
Snyder's plan calls for 5,000 visas in the first year, 10,000 in the second, third and fourth years and 15,000 in the fifth. The visas would be in
the EB-2 category
reserved for those with "advanced degrees or their equivalent" or those who because of their "exceptional ability in the sciences, arts, or business" would substantially benefit the country, who are sought by an employer in the U.S. A bachelor's degree is considered the minimum level of education and the applicant's occupation must be demonstrated to be a "profession." A study on H-1B requests by the Brookings Institution found that 65.9 percent of visas sought in Detroit were for positions in STEM occupations, with computer occupations and engineers most in demand. "Every metropolitan area has a different labor market and different labor needs, so I think Gov. Snyder's proposal is taking that into account … as far as the number of foreign workers they need to attract," said Neil Ruiz, the Brookings senior policy analyst who conducted the city-by-city study. That being said, he added, "Immigration is still a federal issue in terms of policy-making, so I think achieving this would be quite challenging. There's a very long queue already. Right now when you're applying for a green card – most people are on an H-1B – and if you're Indian or Chinese, the line is very long. If there is no congressional action to create more visas to allocate to Detroit and it's just a reallocation of the current visas, it would make it longer for those who have been waiting." Of 140,000 employment-based green cards issued each year, 40,000 are set aside for EB-2 visas. Detroit isn't asking for an increase in the total number of visas granted nationally, just to be preferred in a reallocation. And it's
asking for a "national interest waiver"
from the requirement that an employer certify that it couldn't find a qualified U.S. worker for the job. When asked why American workers couldn't be lured to Detroit to fill its workforce needs, GalaxE Solutions' Bryan pointed to a "disconnect between what the business needs are and what the colleges and universities have been teaching."
Immigration Reform
The House of Representatives is taking up immigration reform again this weekend after failing to act on a
Senate bill passed last year
. House Speaker John Boehner has said all along that the House won't go along with the Senate's comprehensive plan, but will craft its own approach piece by piece. On Thursday, House Republican leaders
unveiled their principles
to kickstart discussions. The sticking points don't seem to be efforts to increase the number of visas available. In late 2012, the House passed
passed a bill to create a permanent visa program
for immigrants with advanced science and technical degrees, but it died in the Senate.