Despite some dour headlines about hiring freezes and layoffs, demand for tech talent was strong and sustained during the first six months of 2022.
That's the conclusion of Dice's latest Tech Job Report, which analyzes the twists and turns of tech hiring. Since the beginning of the year, the number of tech job postings has risen 45 percent, up 52 percent compared to the first half of 2021. Here are some other key takeaways.
It's a Strong (But Not Always Smooth) Market
Over the first half of 2022, hiring didn't rise in a smooth line; there was a hiring spike in May, followed by a decline in June. However, we see similar dips at around the same time every year; it's a seasonal trend: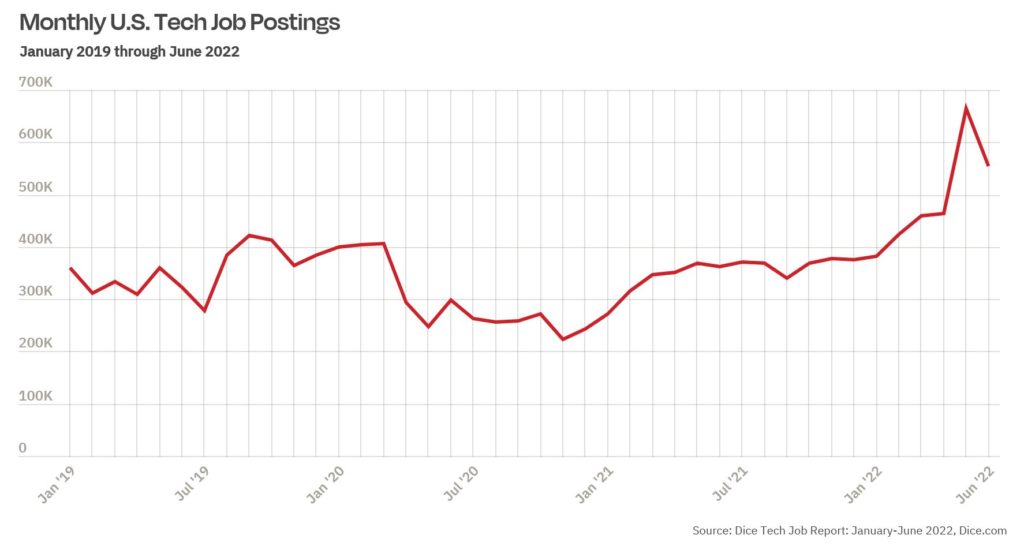 While certain sub-industries such as cryptocurrency and fintech have experienced recent turbulence (and layoffs), and tech giants such as Google and Meta are slowing hiring, it's important to emphasize that organizations throughout the country are hiring tech talent. No matter what the state of the economy, companies of all sizes will always need technologists for everything from building websites to maintaining tech stacks.
In other words, if you're a technologist, you can absolutely pursue (and land) a job right now. Depending on your background, skills, and outlook, you may have to expand your search to industries beyond tech. Nonetheless, the demand is there.
Growth is Nationwide
Throughout 2022, tech hiring hasn't been concentrated in a few choice locations. Across the country, newer, smaller tech hubs are attracting significant talent, even as hiring in traditional tech hubs such as Silicon Valley remains strong. The rise of remote work has given technologists more flexibility to work from anywhere, and there are signs that the "geography gap" in tech pay has been shrinking in recent quarters.
Employers Want Data-Related Skills...
Whether it's SQL, Python, or even more specialized technologies, one thing is clear: employers want technologists with expertise in data-related programming languages, skills, and platforms. Over the past several years, organizations everywhere have awakened to the need to process every bit of in-house data for crucial strategic insights, which means they need data analysts, data engineers, and data scientists.
Expect this trend to continue for quite some time to come. Even if you're not a data analyst or scientist, learning the principles of data analytics can boost your marketability in virtually every field.
...and Lots of Other Skills, Too
As the Tech Job Report breaks down, there's strong demand for a variety of roles. The key is to always keep your skills up-to-date, as organizations (understandably) want technologists who've mastered the tools and platforms key to their business strategies. If you can bring highly specialized skills to the table, such as machine learning or data science, you'll have even more leverage to negotiate for pay raises, training and educational opportunities, and other perks and benefits.
For much more, including some key stats about the current tech jobs market, check out the latest edition of Dice's Tech Job Report!