Encouraged by the prospect of the COVID-19 pandemic finally coming to an end, businesses have spent 2021 figuring out how to re-open offices and hire the technology talent they need to implement long-term strategies. Following an encouraging first quarter, tech job postings grew 16 percent in the second quarter of 2021, highlighting both the continued strong demand for skilled technologists and the strength of the economic recovery.
For the Dice Q2 Tech Job Report, we analyzed more than 1 million tech job postings between April and June 2021. We compared that job posting data to the first quarter (i.e., January through March 2021) as well as historical trends. The Report offers a full breakdown of trends across locations, employers, occupations, and skills; below are some of the highlights.
Tech Hiring Surge Continues
To put the relative strength of the second quarter in perspective, postings were up 29 percent from the pandemic-suppressed second quarter of 2020 and, impressively, 9 percent over the second quarter of 2019. In June, the tech unemployment rate also dropped to 2.2 percent, down from 2.4 percent in May, and is approaching 2018-2019 lows (according to CompTIA).
Tech Hubs Across the Country See Growth
Second quarter growth wasn't limited to the usual markets: emerging tech hubs like Las Vegas (43 percent), Sacramento (36 percent) and Nashville (32 percent) enjoyed some of the largest posting increases during the quarter. Mature tech hubs also fared well, with San Francisco, Atlanta, New York City, Austin and Washington, D.C. among the cities experiencing quarter-on-quarter growth. Raleigh, NC was the only tech hub to miss out on growth quarter-over-quarter.
Top Employers Continue to Boost Hiring
One of the strongest indicators of both the economic recovery and the continuing strength in tech hiring is in activity from the top 50 companies (by posting). During the second quarter, 78 percent of these organizations increased their hiring compared to the first quarter. A variety of sectors were well-represented, including tech (Google, Uber), defense (Boeing, Lockheed Martin), healthcare (Anthem Blue Cross) and finance (Fidelity, US Bank).
UI/UX Designers and Analysts on the Rise
For many companies, 2020 was all about adaptation; throughout 2021, there's been a renewed focus on the product roadmap and the customer base. In the second quarter, companies were actively seeking project, business, and data analysts who can take the data from consumer interactions to help build future products and inform corporate strategy. As companies work to issue a new generation of apps and services, the need for UI/UX designers is as pressing as ever.
What Will Summer Bring?
The summer months generally bring a dip in tech (and all) hiring, with momentum picking back up in September. However, 2021 is anything but a normal year, especially with a wave of U.S. workers changing jobs, a trend likely to continue (a record 4 million people quit their jobs in April alone). It will be interesting to see if the anticipated "Summer of Churn" has an impact on tech hiring seasonality in July and August. The American worker has more leverage than ever before, and highly-skilled technologists potentially even more so, given the strong demand and comparatively low tech unemployment rate in the United States.
For even more insights, check out the Dice Q2 Tech Job Report, brimming with all the information you need about the current tech-job market!
---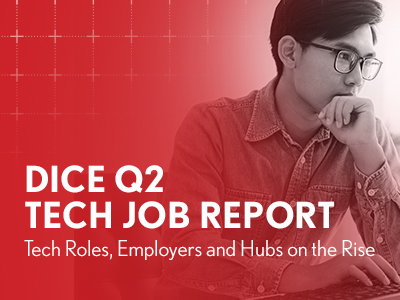 The Dice Q2 Tech Job Report
---