Say "tech hub" and most folks will think of Silicon Valley or New York City. Over the past several years, though, other cities across the country have fostered robust, rapidly growing tech communities. In the Dice Q2 Tech Job Report, multiple cities (including Austin, Boston, and Dallas) all saw significant quarter-over-quarter increases in job postings; other cities, including Atlanta and Washington, D.C., continue to hold their top spots when it comes to tech jobs on offer.
While the Job Report offers the full breakdown of how cities performed with regard to tech employment, we wanted to highlight a few cities rising to prominence as true tech hubs; each offers the can't-miss mix of companies, amenities, and opportunities that technologists need to thrive:
Austin, Texas (a.k.a. Silicon Hills)
Austin, once nicknamed the 'City of the Violet Crown' as a nod to the purple light that can be seen over the Texas city's hills in the wintertime, has recently earned a new, and just-as-apt, moniker: Silicon Hills, a nod to the fact that the home of the iconic (and massive) University of Texas, the birthplace of SXSW and a burgeoning center for live music and creativity is building a dynamic tech scene that may eventually rival incumbents like Silicon Valley and New York. In just the past 11 years, the city's population has ballooned by nearly 30 percent, and in that time, it has also become home to some of the biggest modern players in tech. Here are some stats:
The city has a strong tech history, playing host to IBM, Dell and Samsung over the past four decades; Google, Facebook, Oracle and Atlassian employ thousands of workers in Austin today. The city will also welcome a new Apple campus, a Tesla Cybertruck factory, Oracle's new headquarters and 8VC (Palantir co-founder Joe Lonsdale's venture capital firm), among others. Already trending up pre-pandemic, Austin has continued to be a favorite spot for technologists and other workers (especially younger ones) relocating from the coasts due to the lack of sales tax in Texas (and a lower cost of living in comparison to New York and San Francisco), opportunities to work for startups and other interesting organizations, excellent nightlife, and a continued reputation for cultural progressiveness.
Population: 1,011,790
Size: 319.9 square miles
Growth Since 2010: 28.01%
Q/Q Growth: 25%
Q2 Tech Job Posting Rank: 6
Top Hiring Organizations: IBM, Deloitte, Accenture, Amazon, VMware
Top Occupations: Software Developer, Senior Software Developer, Project Manager, Network Engineer Software QA Engineer
Average Tech Salary: $104,344
Charlotte, North Carolina (a.k.a. The Queen City)
Charlotte has a rich history that extends to before the American Revolution. Chartered in 1768, it was nicknamed 'The Queen City' in honor of Charlotte Mecklenburg-Strelitz, the queen consort of British King George III. With Charlotte's attractive rents and cost of living, as well as migration from other cities and North Carolina's competitive incentives for organizations willing to invest in the state, it's no surprise that The Queen City has continued to attract both tech companies and technologists over the years.
Healthcare provider Centene, fintech organization Credit Karma and global electric vehicle company Arrival have all announced new locations in the area since mid-2020; they join Red Ventures, Passport, Bank of America and AvidXChange, just to name a few. Charlotte is the 15th-largest city in the U.S., and technologists have quite a bit to choose from in terms of places to live and work; students interested in a tech-focused degree can look to the University of North Carolina in Charlotte, which offers eight different computer technology degree programs.
Population: 912,906
Size: 307.2 square miles
Growth Since 2010: 24.70%
Q/Q Growth: 9%
Q2 Tech Job Posting Rank: 11
Top Hiring Organizations: Wells Fargo, Bank of America, Microsoft, Lowe's, Humana
Top Occupations: Software Developer, Project Manager, Application Developer, Network Engineer, Business Analyst
Average Tech Salary: $99,691
Atlanta, Georgia (a.k.a. Silicon Peach)
Atlanta took its name from Martha Atalanta Lumpkin, the daughter of Governor Wilson Lumpkin (previously, it was called Marthasville, after her first name). It's also known and beloved by other nicknames, including The Big Peach, The City in the Woods and Dogwood City; we went with Silicon Peach, denoting the already large and continually growing concentration of high-tech development in Atlanta. In February, Airbnb announced plans to open a technical hub in the city, joining a growing list of companies relocating to Atlanta, including Honeywell, GE and BlackRock. In the second quarter of 2021, Atlanta was second only to New York City in tech job posting volume.
Atlanta has much to offer tech-focused organizations: leaders committed to economic empowerment, a commitment to diversity and inclusion, a diverse technical talent pool, a creative culture and a low residential turnover rate. Nearly 2 million jobs are expected to be created in the city by 2040. The city is already home to traditional-industry giants Coca-Cola, Delta, Home Depot and UPS. For technologists, the city boasts competitive salaries, rents and home prices; for students, the city houses the Georgia Institute of Technology (Georgia Tech) and Emory University, ranked #1 and #2 for Computer Science programs in the state.
Population: 524,067
Size: 135.7 square miles
Growth Since 2010: 24.78%
QoQ Growth: 18%
Q2 Tech Job Posting Rank: 2
Top Hiring Organizations: Capgemini, Home Depot, Amazon, Salesforce, Honeywell
Top Occupations: Software Developer, Network Engineer, Project Manager, Senior Software Developer, Business Analyst
Average Tech Salary: $94,386
The Dice Q2 Tech Job Report offers much more on these cities, including the hottest neighborhoods, median home prices, and more. You'll also find out which other cities and states led in terms of tech job growth, which can help you make vital decisions about your career.
---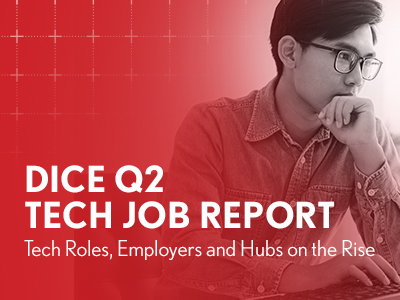 The Dice Q2 Tech Job Report
---