If there's one word that defined tech hiring in the third quarter, it was "stability." While the technology industry didn't see the same double-digit growth in tech job postings as in the prior two quarters of 2021, the fact that postings were essentially flat quarter-over-quarter points to a potential stabilization of the continued high demand for technologists across nearly every industry and vertical.
In the latest 2022 First Half Dice Tech Job Report, we analyzed more than 1 million tech job postings between July and September 2021 to inform you about the tech hiring trends you need to know. Before you plunge into the report, here are some of the highlights:
Cybersecurity is (Still) Having a Moment
If anyone thought cybersecurity would be de-prioritized in favor of other areas as some organizations attempted to get back to "normal," that's certainly not the case—at least through the lens of tech job postings. For most organizations, the new normal will include at least some combination of full-time remote work and an in-office environment, and that, combined with the increased speed of digital transformation for organizations around the globe, means that building a strong cybersecurity function remains a critical priority. In light of that, it's no surprise that postings for cybersecurity engineer roles jumped 31 percent quarter-over-quarter.
Expect Product Innovation to Ramp Up in 2022
Over the past 18 months of pandemic and beyond, some organizations thrived, some capsized and some simply survived. Now, those who thrived are going to need to innovate to hold on to their new market share, while those previously in survival mode are going to need to fight hard to win back lost ground. A boost in posting volumes for senior business analysts, program managers and project coordinators show that organizations are building out not only their product development teams, but also preparing to launch large-scale projects and initiatives.
Texas Continues to Rival California as a Hub for Technologists
While Q3 tells a story of stabilization for many traditional tech hubs, six Texas cities experienced growth in the quarter, with the state itself growing 10 percent in tech hiring. It's no secret Texas continues to build its reputation as a major tech hub rivaling California, and with the Golden State down 5 percent in Q3, Texas made more moves. Dallas (up 16 percent quarter-over-quarter) and Irving (up 12 percent) made the top five cities for Q3 growth, and Houston and San Antonio (each up ten percent) made the top ten cities for Q3 growth.
There was some fluctuation in top tech hub cities by job posting volume quarter-over-quarter. Atlanta (down 8 percent) was surpassed by Chicago (up 2 percent), and Texas was well represented by Austin (up 2 percent) and Dallas (up 15 percent), which climbed into the top five. Meanwhile, San Francisco (down 10 percent) and Washington, D.C. (down 16 percent) saw fewer job postings in Q3 than in Q2. Other major tech hubs – — New York (up 5 percent), Seattle (up 1 percent), Los Angeles (down 5 percent) and Boston (up 11 percent) —– held their ranks from Q2 to Q3.
Half of the tech cities in the top 50 enjoyed either stability or growth in job postings in Q3, while the other half saw decreases in tech hiring compared to Q2. Notably, Jacksonville, FL, home to FIS's new 300,000-square-foot headquarters, topped the list with 18 percent quarter-over-quarter growth. (FIS makes the top ten list in our Employers section, too.) Detroit, MI, was not far behind with 16 percent quarter-over-quarter growth spanning a variety of industries including fintech, automotive and software.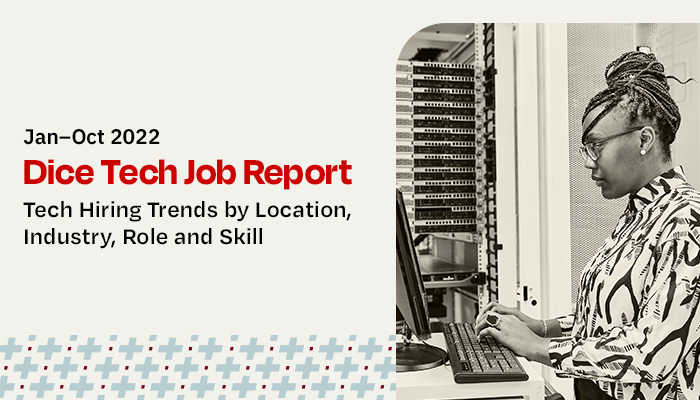 Find out which industries currently have the highest demand for tech professionals like you in Dice's latest Tech Job Report.