Looking for tech professionals with Big Data skills?
Not surprisingly, many companies are. It's probably also not surprising that the highest concentration of tech professionals with Big Data skills can be found in predictable places. More on that in a moment.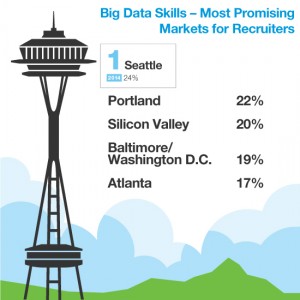 Some of the hottest skills associated with Big Data, namely Hadoop, MapReduce, HBase, Flume and Pig, are amongst the top 10 highest-paid tech skills, according to Dice's Annual Salary Survey. Big Data is becoming a must-have skill set across multiple industries, with more and more companies looking for this level of expertise, including food manufacturers, retailers, consulting companies and game developers to name just a few.
With Big Data continuing to build momentum, companies and hiring managers should know where to look to find professionals that hold these coveted skills. Dice's latest salary survey identified the Top 5 markets with the largest proportion of workers possessing Big Data skills.
Here's the list:
Seattle: Twenty-four percent of survey respondents in the Emerald City reported having Big Data skills in 2014. That Seattle is a leader in the penetration of Big Data tech skills is certainly not shocking, particularly given its strong software development presence. Perhaps what might be more shocking is that the percentage of professionals who claimed to have Big Data skills has almost doubled in the last year, up from 12 percent in 2013.
Portland: Rivaling Silicon Valley (with its nickname actually being "the Silicon Forest"), it makes sense that 22 percent of respondents based in this Oregonian city claim to possess Big Data skills. More interesting to note then, is the year-over-year change in the number of Big Data professionals living in Portland. In 2013, only 7 percent of Portland respondents reported having the requisite skills, marking a 15 point jump in just one year.
Silicon Valley: With Big Data ranking amongst the highest-paid tech skills, it should come as no surprise that these skills are commonly-held in the nation's highest-paid metro tech market. In fact, 20 percent of Silicon Valley tech professionals surveyed reported having Big Data skills in 2014, up slightly from the 18 percent who reported having these skills in 2013 and suggesting early adoption by professionals in this tech hub.
Baltimore/Washington D.C.: Home to large government agencies and contractors, it is clear that tech professionals who have Big Data skills are considered an essential resource in this metro area. In 2014, 19 percent of tech professionals in the Baltimore/D.C. market claimed to have Big Data skills, up from 12 percent in 2013.
Atlanta: Ranked No. 5 in Dice's Top Ten Tech Markets, Atlanta remains a tech hotspot, particularly for Big Data professionals. Seventeen percent of respondents in Atlanta said they had Big Data skills in 2014, up 11 percent from 2013.
Big Data remains in particularly high demand, with several regions on Dice's list of the top five markets with the largest concentration of professionals with Big Data skills showing more than five percent growth year-over-year. For companies and recruiters on the lookout for professionals with Big Data skills, these markets are your best bet for landing top talent.
Upload Your ResumeEmployers want candidates like you. Upload your resume. Show them you're awesome.
Image: Dice