Technology pay in the United States saw another year of hikes with technology professionals earning $89,450 on average annually, up 2 percent from 2013, according to Dice's annual salary survey.
More than half (61 percent) of technology professionals earned higher salaries in 2014, most frequently citing a merit raise as the reason for the increase. Another 25 percent say they received higher wages due to changing employers within the year.
Also, technical recruiters saw a significant jump (19 percent) in salaries in 2014, making $81,966 on average annually compared to $69,102 in 2013.
In addition to salaries rising, tech bonuses were both more frequent and higher. 37 percent of tech pros cited receiving a bonus in 2014, slightly more than the 34 percent who said this last year. The average bonus in 2014 was $9,538, up 2 percent year-over-year.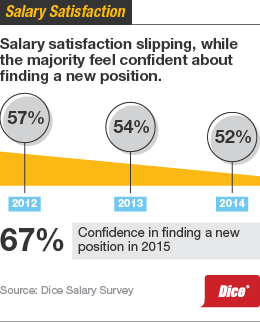 While salaries rose slightly, satisfaction with wages declined. Half (52 percent) of technology professionals were satisfied with their compensation in 2014, down from 54 percent in 2013. In fact, satisfaction with salaries has dipped each year since 2012, when it peaked at 57 percent and salaries saw the biggest year-over-year jump to 5.3 percent.
"As demand for technology professionals rises and highly-skilled talent is harder to find, the pressure is being reflected where it counts: paychecks," said Shravan Goli, president of Dice.com. "Still, tech pros are less happy with their earnings, signaling to companies that in order to recruit and retain the best candidates, offering more will be necessary."
Tech professionals are more confident than ever (67 percent) that they could find a favorable new position in the year ahead and 37 percent anticipate changing employers for better opportunities.
With compensation rising, tech professionals are slightly less likely to relocate for a new job this year (30 percent) as compared to last year (28 percent).
Wages Rising Again in the West
The Pacific region as a whole received the highest salaries and tech professionals in Silicon Valley are again the highest paid in the country, earning $112,610 on average, up 4 percent year-over-year. The second highest paid talent is in Seattle, where tech pros earned $99,423, up 5 percent, in 2014. Sacramento tech salaries rose 14 percent to $96,788, with more experienced professionals earning more from last year driving the growth. Professionals in Portland, Oregon earned $91,556 on average, up 9 percent year-over-year, and in San Diego, tech salaries rose 4 percent to $94,121.
Money Markets
Several key markets saw above-average pay increases including Boston and Chicago, up 3 percent year-over-year to $97,288 and $88,866, respectively. Dallas ($91,674) and New York ($95,586) professionals earned a 2 percent increase. Washington, D.C. tech salaries rose 1 percent to $98,323 on average making them the third highest paid professionals behind Silicon Valley and Seattle.
Skills to Pay the Bills
Big Data and cloud dominate the skills which earned the highest paychecks in 2014.
| | | | | | | |
| --- | --- | --- | --- | --- | --- | --- |
| 1. | PaaS | $130,081 | | 6. | Pig | $124,563 |
| 2. | Cassandra | $128,646 | | 7. | ABAP | $124,262 |
| 3. | MapReduce | $127,315 | | 8. | Chef | $123,458 |
| 4. | Cloudera | $126,816 | | 9. | Flume | $123,186 |
| 5. | HBase | $126,369 | | 10. | Hadoop | $121,313 |
"Cloud is not new to the tech world but as more companies—large and small—adopt the technology, tech professionals with this experience will enjoy opportunities," said Mr. Goli. "Big Data made a big showing last year and we're seeing it this year too. Tech professionals who analyze and mine information in a way that makes an impact on overall business goals have proven to be incredibly valuable to companies. The proof is in the pay."
For additional information on top paying skills in product, design, mobile, cloud and other categories, please visit www.dice.com/salary.
Dice Salary Survey Methodology
The 2014 Dice Salary Survey was administered online, with 23,470 employed technology professionals responding between September 29 and November 26, 2014. Respondents were invited to participate in the survey through a notification on the Dice site and registered technology professionals were sent an email invitation. A cookie methodology was used to ensure that there was no duplication of responses between or within the various sample groups and duplicate responses from a single email address were removed. The Dice Salary Survey was adjusted for inflation in 2014: technology professionals earning salaries of $250,000 and above were not automatically eliminated from the survey if they met other criteria.
Upload Your ResumeEmployers want candidates like you. Upload your resume. Show them you're awesome.