E-media aficionados have predicted for years that devices like
Amazon's Kindle
,
Barnes & Noble's Nook
and multipurpose devices like the iPad will push book publishers deeper and deeper into quicksand. Now comes research backing it all up.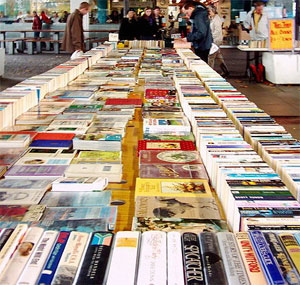 Steven Mather, a researcher at IHS iSuppli, says U.S. publishers will see e-book sales jump by 40 percent between 2010 and 2014, while physical books sales will drop by 5 percent. Unfortunately for the publishers, the rise in e-books sales won't make up for the lost book revenue. The change, he believes, marks "a major inflection point."
In 2014, e-books will represent 13 percent of total U.S. book publishing revenue, up from 3 percent in 2010 and 6 percent in 2011. However, average selling prices for e-books typically are 40 percent lower than those of paper copies, driving the deterioration in price.
So…
The industry has entered a phase of disruption that will be as significant as the major changes impacting the music and movie businesses.
On the face of it, you'd think this rise of the machines would be good news for the makers of e-readers. But:
Dedicated e-reader shipments will fall short of some expectations partly because of encroachment from media tablets, which many consumers will use to view e-books.
Proving his point: Dedicated readers had profit margins of about 35 percent until April 2010, when Apple introduced the iPad. So: It seems like two battles are going on here -- One between e-readers and multipurpose devices like the iPad, and one between any kind of e-device and paper books. Any bets on who wins? Source:
IHS iSuppli