Tech startups continue lean on snazzy titles
-- guru, rock star, wizard or ninja – in job postings, though these titles might be a means to compensate for lower salaries and small staffs, according to U.K. job site
AdZuna
.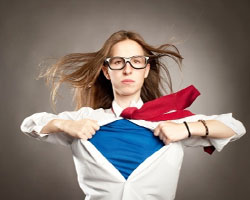 "Startups are usually small companies, so workers are often jacks of all trades," Gabriel Puliatti, AdZuna country manager for Canada, told the Financial Post. "These companies are trying to separate out the people who like working for smaller companies. They're saying 'we're cool: You should come to work for us.'" In its survey, AdZuna looked at classified ads in the U.K., Canada, South Africa, Germany and Brazil. It found companies were seeking superheroes, legends, Jedi and even an overlord in Canada. "Let's face it, rockstar sounds way cooler than engineer," he added. "The tech startup culture is kind of jokey so they use these words to attract people who like that attitude."
Real People, Real Titles
In its survey, Web developers – even with jokey titles -- were most in demand among Canadian startups, with 49 percent of job posts for Web developers and software engineers. At startups, even an overlord does regular work, just perhaps just more of it. People whose actual job titles are that "cool" include Lauren Tassiello, whose title is
"talent tractor beam operator" at Infusionsoft
and Mary Jantsch, a
"happiness hero" at Buffer
. However cool you are, though, describing yourself as a ninja or rock star on your resume could backfire, according to Scot Herrick, author of "
I've Landed My Dream Job–Now What???
" and owner of online career management training site
CubeRules.com
. "Whenever I look at the short descriptions of people's work title on LinkedIn and see those quirky, fashionable job titles, I want to gag," he says. Instead, he advises those using fashionable job titles, which offer ambiguous definitions and can't possibly be proven, to concentrate on inserting tangible results into their resume, such as increasing their employer's revenue, decreasing their costs or reducing time spent. "Show that your work can help the company reach their business objectives," Herrick advises.