I explained to someone that there's no way you could find out who has viewed your Facebook profile. That's because they had clicked on a link posted to someone else's Facebook wall that said just that. Luckily for them, the scammers were just trying to get them to allow app access to their profile so they could post (spam) the very same message to all of their friends, and make some money by getting some people to fill out a harmless survey.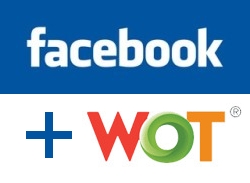 This was one of the tamer scams that you might come across. Other scams can be (and are) much more malicious, and you can be sent off to sites via links that seem innocuous but that have serious consequences. Facebook has two options – either completely disallow all external links, or audit those links, scrubbing the known bad ones. Obviously, disallowing all links would remove a significant appeal of Facebook - i.e. the social aspect of sharing with your friends. So instead Facebook
has decided to team up
with an established (and interestingly crowd-based) website reputation service called Web of Trust to provide warnings on dicey links. Now what happens is when a user clicks on a potentially dangerous link they get a warning message (see image below) that tells them that the Web of Trust community has deemed the site or page to be potentially dangerous.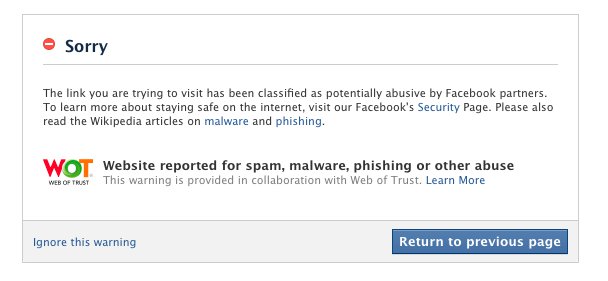 For Facebook this is a step in the right direction, as they are arguably now one of the largest spreaders of malware and links to phishing and spamming sites on the Internet.
But you don't need to wait for Facebook to implement this globally; you can
download the Web of Trust extension
for your browser today. It works with Firefox, Chrome, IE, Safari, Opera, and has a bookmarklet for others. I highly recommend that you use it too.