[caption id="attachment_8290" align="aligncenter" width="618"]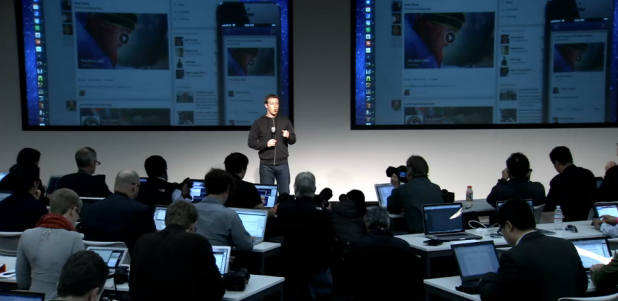 Facebook CEO Mark Zuckerberg unveils the new News Feed.[/caption] Facebook's News Feed refresh makes one thing clear: photos are king.
The social network's new News Feed
(say that four times fast), which will be rolled out over the next few weeks, features much larger images; whenever one of your friends makes a new friend, that new friend's portrait and cover images—the two top elements of everyone's Facebook page—are displayed in the feed. Users will also have more granular control over what's displayed in the feed—so if you just want updates involving Games or Photos, for example, that's an option. In addition, Facebook made sure that the "look" of the new News Feed carries over from PCs to smartphones and tablets. Such consistency of experience is important if Facebook wants to keep its users accessing the social network from as many devices as possible. Facebook also tinkered with friend-related stories. For example, upcoming events feature more prominent graphics (in keeping with the whole put-photos-first philosophy of the redesign) and tiny listings of which friends are attending; links shared by friends are presented in a way that's much "cleaner" than in the old News Feed; and thumbnail portraits of friends who "Liked" a particular posting appear alongside it: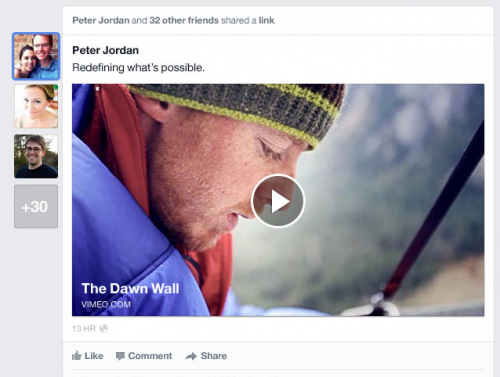 Facebook's emphasis on visuals brings the News Feed more in line with Pinterest, a fast-growing social network that allows users to pin photographs and videos to a pin-board. It also helps differentiate the News Feed from Twitter, which also offers a stream of postings but is, at least for the moment, much more text-oriented. News Feed isn't Facebook's only major update slated for this year: the company is also readying its Graph Search, a new and powerful way of searching the network for all sorts of information.
A recent Facebook blog posting
detailed the software engineering needed to build the index that underlies the search tool. Of course, all these innovations are designed to keep Facebook, with roughly a billion members worldwide, at the top of the social-networking heap. Better search, bigger photos—is that enough to keep users loyal, especially as other social networks inevitably rise to prominence? Time will tell.
Images: Facebook