[caption id="attachment_8481" align="aligncenter" width="618"]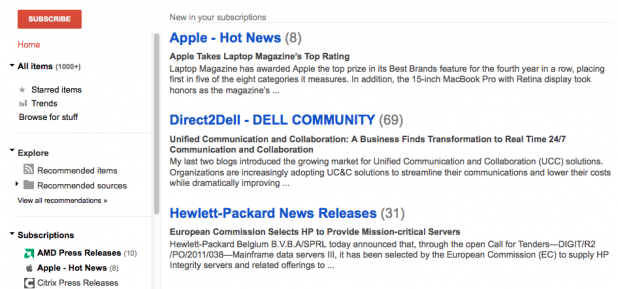 Google Reader: officially pronounced doomed.[/caption] Google is whacking Google Reader, claiming the RSS reader's user base has been steadily declining over the past few years. "There are two simple reasons for this: usage of Google Reader has declined, and as a company we're pouring all of our energy into fewer products," Alan Green, a Google software engineer, wrote in a March 13 posting on the
Official Google Reader Blog
. "We think that kind of focus will make for a better user experience." Google Reader users will have a three-month window in which to find some sort of alternative solution. Those with a burning desire to keep their Reader data (such as subscriptions)
can use Google Takeout
. Google Reader is just one casualty of what Google refers to as its "spring cleaning." Google Cloud Connect (a plug-in for saving Office files from Windows PCs in Google Drive), Google Building Maker (for building 3D building models for Google Earth and Maps), Google Voice App for BlackBerry, and Snapseed Desktop for Macintosh and Windows are just some of the products being led to the proverbial chopping block. In any case, if Google is encouraging Google Reader fans to find alternates, there are quite a few online:
Feedly:
This app for iOS, Android and the Web can organize users' blogs, Web news, and even YouTube channels into a single stream. (It also syncs with Google Reader, a feature that will soon prove useless.) A menu allows Feedly users to share articles on Twitter, Facebook, and other social networks. Design-wise, the app has a very shiny, almost magazine-y feel to it: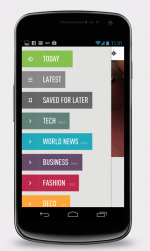 Flipboard:
Touted as the user's "personal magazine," this app for iOS and Android hinges on a Content Guide that connects to a variety of aggregation services such as YouTube and—yes—Google Reader. In addition to collecting news sources from around the Web, Flipboard integrates a whole lot of social networking functionality—the better to share (or over-share, as the case may be) interesting articles: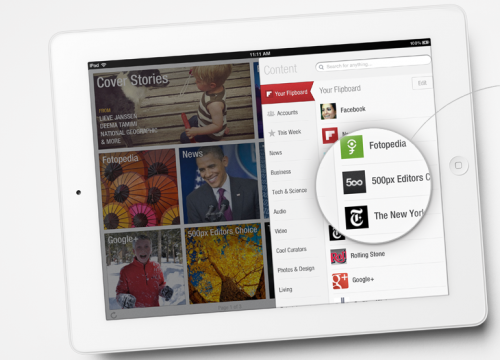 Pulse:
This app (available for Android and iOS, and on the Web) doesn't just collect blogs and other online news sources in one place; it also syncs stories across the user's collective devices. Tapping the onscreen star icon will also save articles for later. Like most RSS readers out there, Pulse's developers seemingly devoted considerable resources to ensuring the interface looks spiffy: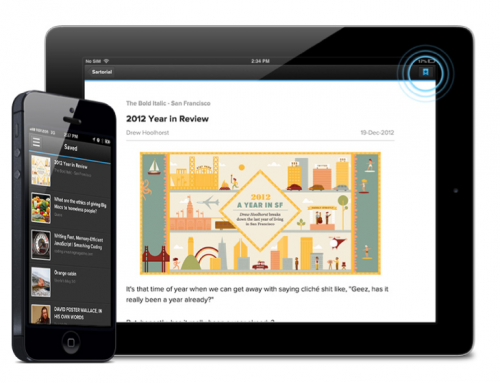 NewsBlur:
Featuring "real time" RSS and the ability to share stories, this app is available for Web, iOS and Android. It features a Global Shared Stories tab, as well as access to aggregators such as kottke.org and sub-categories like "Cooking" and "Tech":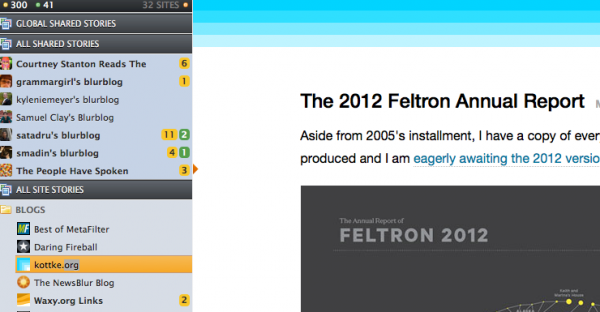 Despite Google's claims of declining use, a lot of people still relied on Google Reader to feed them a constant stream of relevant content. Fortunately, any number of startups offer apps that could substitute quite nicely.
Images: Feedly, Flipboard, Pulse, NewsBlur