[caption id="attachment_6514" align="aligncenter" width="550"]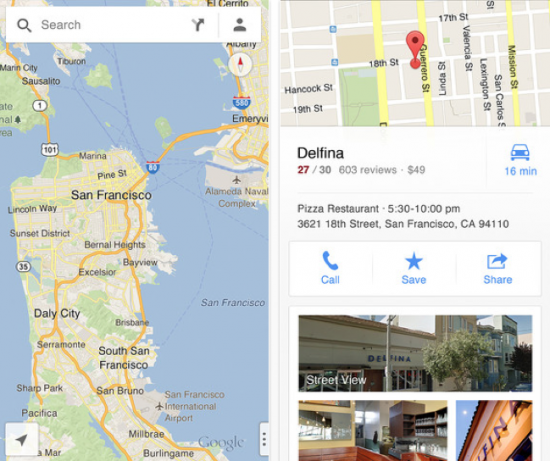 Google's new standalone Maps app for iOS, available via Apple's App Store.[/caption] Google has introduced a standalone Google Maps app for iPhones and iPads, complete with live traffic information, turn-by-turn directions, and the ability to see inside some 100,000 businesses worldwide. That could come as a relief to any iPhone and iPad owners who've exhibited displeasure over Apple's Maps app, which has been widely criticized for lacking vital information. After relying Google's extensive mapping database for years, Apple switched to its own homegrown mapping data with iOS 6, the most recent version of its mobile operating system. While surprising to some, the move had apparently been underway for some time; as far back as 2011, rumors persisted that Apple was acquiring independent mapping firms,
including C3 Technologies and Poly9
. While those firms presumably came with all sorts of mapping data and technology, Apple's newborn Maps app suffered from a number of bugs, including inaccurate roads and disappearing landmarks. While that didn't stop more than 100 million iOS users from downloading iOS 6 within days of its release, the furor over the errors was a very public embarrassment for Apple, which prides itself on releasing very polished products. Even as Apple owners clamored for Google to release a standalone maps app for iOS, executives for the search-engine giant seemed reluctant to offer any sort of promise. "We have not done anything yet," Google executive chairman (and former CEO) Eric Schmidt
reportedly told a Tokyo audience
in November. Meanwhile, unnamed sources within Google told
The New York Times
that the company was developing an iOS 6 maps application for possible release by the end of the year. Furor over the issue eventually forced Apple CEO Tim Cook to issue an apology on his company's Website. "At Apple, we strive to make world-class products that deliver the best experience possible to our customers,"
he wrote
. "With the launch of our new Maps last week, we fell short on this commitment. We are extremely sorry for the frustration this has caused our customers and we are doing everything we can to make Maps better." Apple senior vice president Eddy Cue was the one tasked with improving the situation, and
he started by firing the senior manager
overseeing iOS Maps. That finished, he reportedly reached out to a number of mapping-technology experts for advice on how to improve the app. Given all that time and attention, it's almost certain that Apple's Maps app will continue to improve. Directions will become more accurate, major towns and landmarks
will appear in their proper places
. But now that a free, standalone Google Maps app is available for download from Apple's App Store, will iOS users even give those improving Apple Maps a chance?
Image: Google