[caption id="attachment_4790" align="aligncenter" width="482"]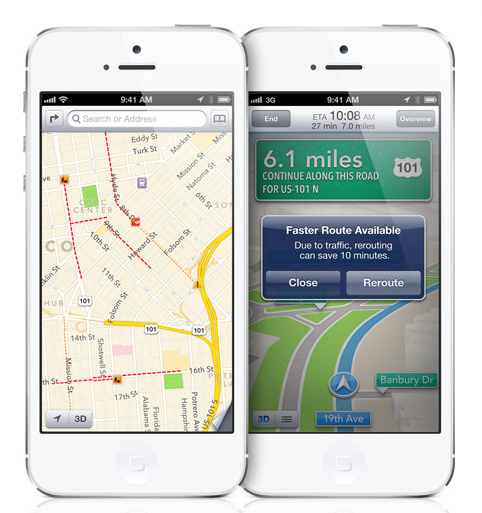 Apple's new iOS 6 Maps: handsome-looking, but also a criticism magnet.[/caption] Soon after iPhone and iPad users began downloading iOS 6 to their devices, the complaints started about Apple's new native-maps app. The software was inaccurate, some argued, with a tendency to make landmarks disappear and bridges melt in satellite view. By the time someone
started a Tumblr
documenting iOS 6 maps' more comical errors, and seemingly every amateur comedian between Kansas City and Karachi rushed to post a joke about the situation on Twitter ("A man using Apple Maps walks into a bar… or maybe a hotel"), it was clear that Apple had a situation on its hands. On Sept. 23, TechCrunch (citing an unnamed source with connections at Google and Apple)
reported that Apple had started recruiting
Google Maps employees as part of a crash program to improve the iOS 6 maps app. Earlier in September, Apple had posted several job listings on its Website for iOS software engineers with a mapping specialty. That controversy over Apple's native mapping software hadn't stopped some 100 million iOS users from downloading the latest version of the software by Sept. 24. But Apple dumping Google Maps in favor of its own app, along with that app's widely-viewed-as-subpar performance, has left smartphone and tablet users wondering when Google will issue a Google Maps app for Apple's App Store,
akin to what it did with YouTube
. The apparent answer: be prepared to wait a bit. "We have not done anything yet," Google executive chairman (and former CEO) Eric Schmidt told an audience in Tokyo,
according to Reuters
. Schmidt also used that event to swipe at Apple's decision to dump Google Maps as the foundation of iOS mapping. "We think it would have been better if they had kept ours. But what do I know?" he said. "What were we going to do, force them not to change their mind? It's their call."
The New York Times
spoke with unnamed sources within Google, who said that Google is indeed developing a maps application for iOS with a target launch date of the end of 2012, but that the search-engine giant had been "caught off guard" by Apple's decision to switch map apps. Over on
Daring Fireball
, blogger John Gruber consulted with his own unnamed sources "directly familiar with the matter," who apparently confirmed that report. "The existing deal between Apple and Google still had a year remaining at that time—that is to say, at the time Google found out," he wrote. "Sticking with that deal through its expiration date would have left Maps in iOS 6 exactly where they stood in iOS 5: no turn-by-turn directions or vector map tiles for Apple." So Apple presumably decided to be the captain of its own fate, launching a service it knew would expand over time, albeit with the short-term loss of features and accuracy that Google's software had managed to build over the years. The question now is whether, by taking such action, Apple has accidentally elevated Google Maps on Android to the position of "killer feature." Some analysts think so. "For a potential customer on the cusp of deciding whether to buy an Apple or an Android phone," Roger Kay, principal analyst of Endpoint Technologies Associates,
wrote in a Sept. 27 posting on Forbes
, "this blatantly dishonorable move—to take away from consumers something that they liked and put in its place a home-grown but inferior substitute—is likely to push them definitively into the Google camp." That might be elevating the importance of Maps in people's lives a little too much. But time will ultimately tell either way.
Image: Apple