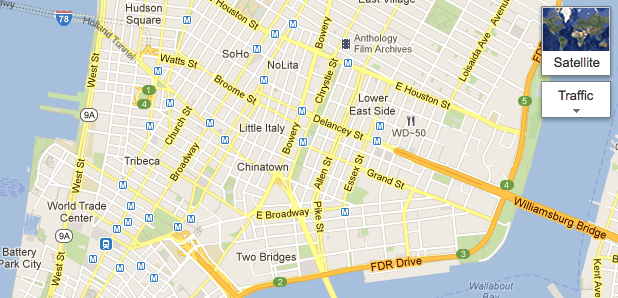 Holding your breath for a Google Maps app for iOS? It might prove a long, blue-in-the-face wait. According to
The Guardian
, itself citing unnamed "sources at Google familiar with its mapping plans," the search-engine giant remains pessimistic about the possibility of Apple approving a Google Maps app for the iOS App Store. One of the newspaper's sources also indicated that Apple would instead concentrate its resources on improving its homegrown Maps app, which attracted significant criticism soon after its release for lacking much of the cartographical data present in Google Maps. Adding insult to injury, Apple's Maps app has a tendency to make landmarks disappear and bridges melt in satellite view. Previous to iOS 6, Apple had relied on Google's mapping data, but the souring relationship between the two tech giants may have driven Apple to forge its own path. But given how people rely on mobile devices' mapping apps to guide them through life, Apple's decision to further cut ties with Google may have elevated Google Maps on Android to the position of "killer feature." The Guardian's report dovetails with earlier ones from other newspapers and blogs. Soon after iOS 6 launched in September,
Reuters reported
Google executive chairman (and former CEO) Eric Schmidt as telling an audience in Tokyo, "We have not done anything yet," in response to a question about an iOS Google Maps app. At around the same time, unnamed sources within Google told
The New York Times
that the company is indeed developing a maps application for iOS with a target launch date of the end of 2012, but that the search-engine giant had been "caught off guard" by Apple's decision to switch map apps.
Daring Fireball
blogger John Gruber consulted with his own unnamed sources "directly familiar with the matter," who apparently confirmed that
Times
report. "The existing deal between Apple and Google still had a year remaining at that time—that is to say, at the time Google found out," he wrote. "Sticking with that deal through its expiration date would have left Maps in iOS 6 exactly where they stood in iOS 5: no turn-by-turn directions or vector map tiles for Apple." The issue over Maps even led Apple CEO Tim Cook to issue an apology on the company's Website. "At Apple, we strive to make world-class products that deliver the best experience possible to our customers,"
he wrote
. "With the launch of our new Maps last week, we fell short on this commitment. We are extremely sorry for the frustration this has caused our customers and we are doing everything we can to make Maps better."
The New York Times'
Nick Wingfield and Nick Bilton reported
in October
(citing "people briefed on Apple's moves") that Scott Forstall, the Apple executive in charge of iOS, was fired for refusing to sign that apology letter.
Image: Google