Both Gartner and IDC report worldwide PC shipments are growing.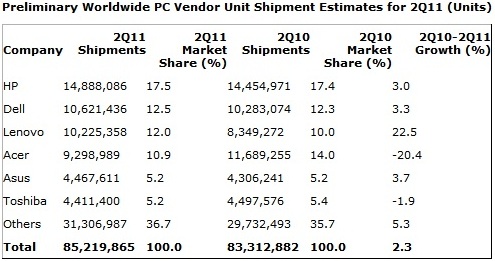 According to Garner, shipments during Q2 of 2011 increased by 2.3 percent from the same period of 2010, while IDC saw slightly higher at 2.6 percent. In terms of units, Gartner says the biggest winner was HP, which had 14.9 million units sold. In terms of growth rate, Lenovo sold 22.5 percent more in 2011 than it did in the same quarter of 2010. Its market share now stands at 12 percent. The company shipped 10.23 million PCs during the quarter. Gartner says Dell sold over 10.6 million PCs, for a market share of 12.5 percent. Acer sold 9.3 million units while Asus sold 4.4 million.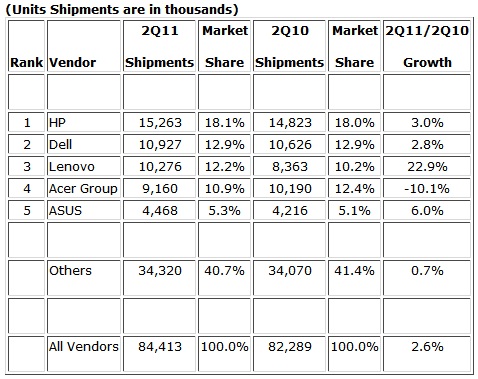 IDC says HP sold 15.2 million units, for a market share of 18.1 percent, while Lenovo sold 10.2 million units (12.2 percent) market share. IDC also said Lenovo posted 22.9 percent growth.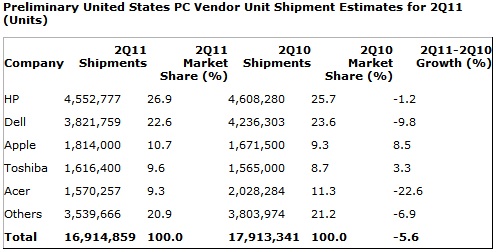 The situation was a little bit different in U.S. Here, Gartner said Apple came in third with 10.7 percent market share and 1.8 million units shipped. In terms of growth, Apple was first with an 8.5 percent increase year over year. IDC's report was similar.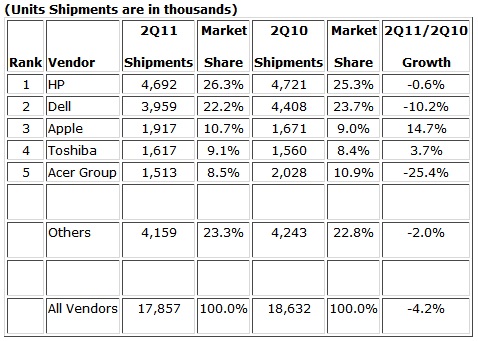 Both sets of results reveal the same thing: Despite the recession, PC shipments are increasing and Lenovo is leading globally while Apple leads in the U.S.