[caption id="attachment_5292" align="aligncenter" width="500"]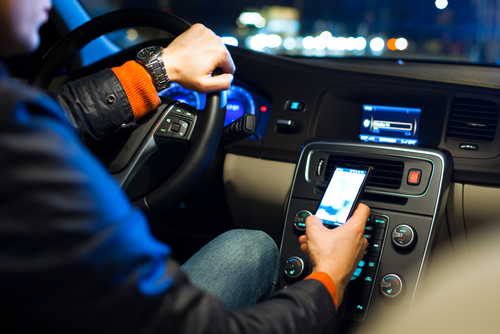 Thirty seconds later, this example of smartphone usage ended very, very badly.[/caption] It took sixteen years, but the number of smartphones in circulation worldwide has finally hit 1 billion, according to research firm Strategy Analytics. Strategy Analytics pegs the Nokia Communicator, released in 1996, as the first "modern" smartphone. Subsequent years have seen the rise of Research In Motion's BlackBerry and Apple's iPhone, as well as a plethora of Google Android devices. Although Microsoft made some early gains in the smartphone space with its Windows Mobile franchise, the company eventually lost significant ground to its competitors, forcing it to reset its mobility efforts with Windows Phone. "We estimate 1 in 7 of the world's population owned a smartphone in the third quarter of 2012," read an Oct. 17 posting on the
Strategy Analytics blog
. "Smartphone penetration is still relatively low. Most of the world does not yet own a smartphone and there remains huge scope for future growth, particularly in emerging markets such as China, India and Africa." Strategy Analytics estimated the total number of smartphones in circulation last year at 708 million, suggesting robust growth in order to hit 1.038 billion units in the third quarter of 2011. Nor will that expansion slow in coming years; the firm estimates that global smartphone users will hit the 2-billion-unit mark in 2015. While Nokia helped establish the smartphone market back in the day, the Finnish phone-maker has struggled to find a successful strategy for maintaining its market-share in the face of significant competition from the iPhone and Android. Current CEO Stephen Elop decided to largely abandon Nokia's homegrown mobile operating systems, including Symbian, in favor of Microsoft's Windows Phone. However,
Nokia's Q3 2013 financial results
suggest that sales of Nokia Lumia devices—its flagship Windows Phone line—are down significantly quarter-over-quarter. Meanwhile, Apple continues to fight it out with a host of Android manufacturers, including Samsung and Motorola (the latter owned by Google). While the iPhone 5 proved a hit in line with the previous devices in that franchise, the increasing sophistication of Android smartphones represents a clear challenge to Apple's prominence in the mobility arena. In addition to pouring billions of dollars into their respective efforts, these companies are firing off all manner of intellectual-property lawsuits at one another, seeking any sort of advantage—which only to be expected, considering the billion-user-strong customer base.
Image: lightpoet/Shutterstock.com