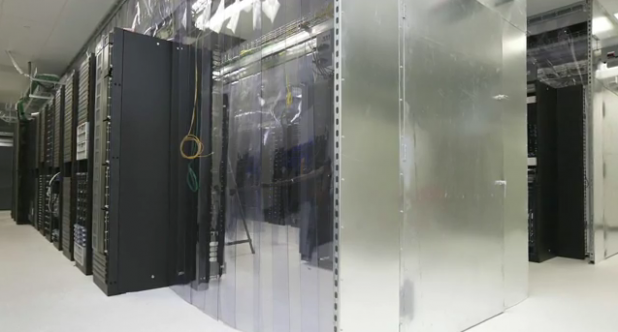 Google's expansion in its data-center operations includes some new infrastructure in Europe. Google acknowledged spending $177 million (150 million Euro) to double the capacity of a data center in Hamina, Finland, which serves the bulk of its European customers. The coastal facility, housed inside the shell from an old paper mill Google purchased in 2009, uses seawater pumped from just a few feet away to cool the facility. The site originally came online in Sept. 2011. The new renovation will last 18 months, Google wrote in a
blog posting
, and require the services of 500 engineers and construction workers, most of whom will be Finnish. The company estimates that the expansion will add 25 additional jobs, in addition to the 90 workers already employed there. In total, Google has published
the names and locations of 11 data centers
, including five overseas. Two are in Europe. In addition to the Hamina facility, there's a second site in St. Ghislain, Belgium that also relies heavily on green technologies, pumping water from a nearby canal to cool its racks of servers. (Google Europe itself is based in Dublin, Ireland.) Although companies have traditionally used fans or "chillers" to cool racks of servers, tapping into cooler local climates or other free cooling methods is seen as both smart and environmentally conscious. For example, Facebook's own main European data center is housed in Lulea, Sweden, where the average temperature is 36 degrees Fahrenheit. "When we acquired the mill it already had a massive seawater intake tunnel built underneath it, which brings seawater from the Gulf of Finland into an adjacent heat transfer station. We decided to reuse as much infrastructure as possible at the site, and found good use for this water tunnel," said Al Verney, a spokesman for Google, told
The Wall Street Journal
in 2011.
Rival Apple Building Away
Apple may not be as cloud-focused as a company (such as Google) that lives on the Web. But Apple has recently ramped up a number of cloud services, including iTunes Match, which scans a user's hard drive for music and then stores a high-quality version of it in the cloud. Unlike Google, whose competing Google Play Music service stores actual copies of the user's music in the cloud—including small variations in title and other metadata—Apple stores a single copy of each song, cutting back on its resource use. Apple's plans to build a 350-acre data center east of Sparks, Nevada
won the support of government officials
, who committed to giving the company $89 million in tax breaks for the new facility. After construction, the company said the facility will employ at least 35 full-time workers with an hourly wage of $25, in addition to up to 200 contract workers. Apple, for its part, is said to be
adding a so-called "tactical data center"
at its Maiden, North Carolina facility—supposedly a secure testing facility so that outside vendors and partners can test their own products within Apple's cloud, but without full access to the Maiden facility at large.
Image: Google