[caption id="attachment_9826" align="aligncenter" width="618"]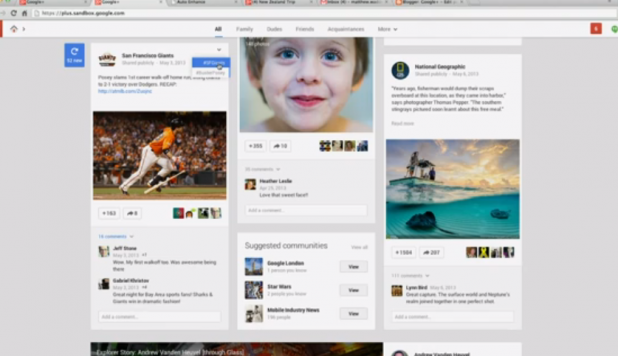 Google demonstrated its social network's new capabilities at I/O this week.[/caption] You can't fault Google for lack of ambition. When the company behind the world's most pervasive search engine launched its Google Plus (often written as Google+) social network in 2011, it clearly did so with an eye toward eclipsing Facebook, the world's most pervasive social Website. Buoyed by the Google branding, Google Plus enjoyed some early success. It quickly reached 10 million users, then 20 million, then 40 million—pretty good for any service, but relatively tiny compared to Facebook's billion-plus headcount. By the end of 2012,
Google claimed it had 135 million users active
in the Google Plus activity stream, while more than 500 million people had "upgraded" to the platform of integrated Google services that includes the social network. (
A new posting on the Google+ Blog
suggests that the current numbers are 190 million people in the activity stream with another 390 million active with the various "logged-in" Google tools.) That doesn't exactly make Google Plus the virtual equivalent of a dusty ghost town, but the social network has nonetheless faced persistent claims that users simply don't engage with it at Facebook-like levels. But at this year's Google I/O conference in San Francisco, Google announced that it has a plan to make Google Plus users more engaged, courtesy of new features backed by a handful of Big Data tricks. Google also revamped Google Plus with a multi-column layout and new animations, as part of a bid to keep the overall property seeming fresh. The Big Data part comes into play with the hashtags: Google Plus postings now feature Google-generated hashtags that, when clicked, direct the user to related content from across their network. From a backend-infrastructure perspective, that sort of thing leans heavily on Google's semantic analysis and the ability to make the right connections between various pieces of data. (If you want a good example of the effort it takes to build such a system, check out everything that
Facebook had to go through with Graph Search
.) As
The Verge
pointed out in a May 15 piece, Google's massive machine-learning apparatus also comes into play with the new Google Plus photo options. Google Plus will now enhance images to look better, from ironing out wrinkles on faces to adjusting saturation and contrast. The platform will also automatically highlight certain photos out of dozens or even hundreds of shots. Say you went on vacation to India and took some photos of your significant other in front of the Taj Mahal; Google Plus will leverage its database of information to recognize that as a prominent landmark and pluck those photos out of the pile as "special." In the words of that posting on the Google+ Blog: "Your darkroom is now a Google data center." But are all these nifty, analytics-intensive features enough to change the larger fortunes of Google Plus? That's the big question. Google has a handsome-looking platform, one that performs certain activities with a high degree of polish and zip—but is that enough to counter Facebook?
Image: Google