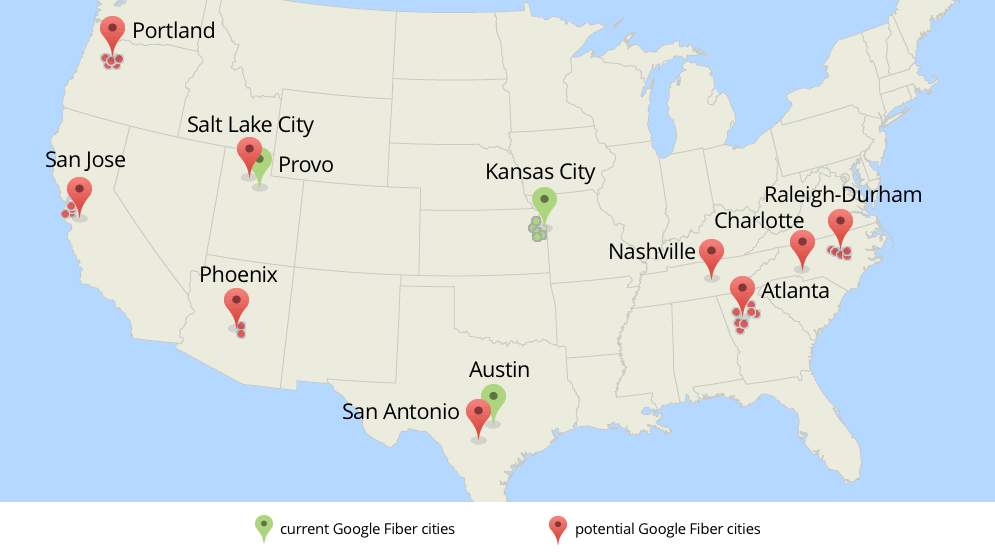 AT&T
plans on introducing high-speed fiber Internet to 100 cities in 21 metropolitan regions across the United States, although those regions have yet to be decided. "We're delivering advanced services that offer consumers and small businesses the ability to do more, faster, help communities create a new wave of innovation, and encourage economic development," Lori Lee, senior executive vice president of AT&T Home Solutions, wrote in a statement. "We're interested in working with communities that appreciate the value of the most advanced technologies and are willing to encourage investment by offering solid investment cases and policies."
Click here to find network infrastructure jobs.
Nothing is finalized yet, of course—in fact, some have characterized the carrier's announcement
as a "big, fat bluff."
AT&T is almost certainly reacting to Google, which recently sent members of its
Fiber
team to meet with representatives of 34 U.S. municipalities. "Building a fiber network is a big job," read
Google's official blog posting on the matter
, "and it requires a lot of advance planning and collaboration—so over the next few months, these cities will be working with us to complete a checklist that will help them become more 'fiber-ready.'" Google likes to keep quiet about its ultimate strategy, but such postings make it clear that the company has
national ambitions
for the high-speed network. Google Fiber began in Kansas City before expanding to Olathe, Kansas and Austin, Texas, and beyond that to Provo, Utah. Google has always promoted its network technology as not only good for consumers, who can use it to facilitate high-speed downloads, but also businesses, particularly tech firms that need as much bandwidth as possible to deliver services via the cloud. (For Google itself, faster networks also mean it can serve up more ads, and thus generate more revenue.) If Google keeps expanding its Fiber network, and carriers such as AT&T build out their own high-speed offerings in response, the dynamics could soon change for many tech companies looking for a permanent place to settle. According to CNET, Fiber's appearance in Kansas City sparked
a modest but noticeable collection of startups in the area
, each of them anxious to leverage that super-speedy broadband. High-speed networks in other cities could have a similar effect, potentially creating micro-tech-hubs around the country. That could be a great thing for everybody—except any carrier that isn't offering a next-generation network.
Related Stories
Image: Google