[caption id="attachment_2939" align="aligncenter" width="617"]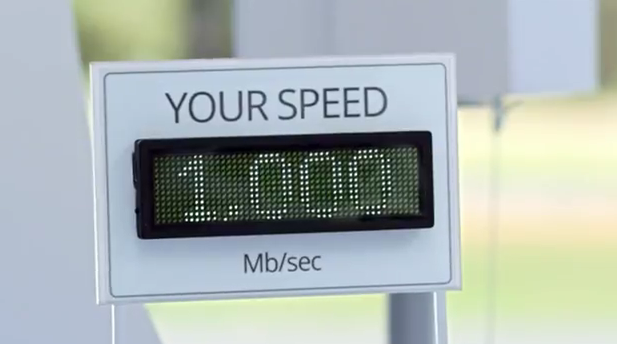 A screenshot from Google's video explaining Google Fiber.[/caption] Google whipped the curtain back from its ultra-fast broadband service July 26, claiming it will offer the Web at speeds more than 100 times faster than current broadband services.
Google Fiber
is making its debut in Kansas City, which Google divided into "small communities" it terms "fiberhoods." Kansas City residents who want the service should not only pre-register, but encourage their neighbors to do so, as well; Google will "install only where there's enough interest, and we'll install sooner in fiberhoods where there's more interest," according to the newly launched
Google Fiber Blog
. This pre-registration "rally" will apparently last six weeks, ending September 9. For those fiberhoods that manage to reach a pre-registration goal, Google will apparently "connect community buildings like schools, libraries and hospitals with free Gigabit Internet." The three Google Fiber packages include Gigbit + Google Fiber TV, which will cost $120 per month and feature hundreds of high-definition television channels and 2TB of DVR storage; Gigabit Internet, which will offer 1TB of cloud storage on top of gigabit Internet speeds, and cost $70 per month; and free Internet, which will cost nothing per month, feature slower connection speeds (5 Mbps per second), and require a $300 construction fee (not present in the other two options). Google claims that its gigabit project will ultimately help consumers and businesses. "Gigabit speeds will get rid of these pesky, archaic problems and open up new opportunities for the Web," read a posting on the Google Fiber Blog. "Imagine: instantaneous sharing; truly global education; medical appointments with 3D imaging; even new industries that we haven't even dreamed of, powered by a gig." Google Fiber offers a way to integrate Google services more tightly into potential customers' lives. Those who order the Gigabit + Google Fiber TV option will receive a
Nexus 7 tablet
, and those ordering Gigbit Internet will receive the aforementioned storage space via Google Drive. As Google attempts to push back against competitors such as Apple and Microsoft on multiple fronts, citywide networks delivering ultra-fast Internet (along with Google services) could give it something of an advantage in terms of branding presence. Faster Internet could also translate into more time spent on the Internet for many consumers and businesses, which in turn could expose them to more Google ads—a possible revenue booster, on top of whatever Google earns from selling the service. But the expansion of Google Fiber almost certainly hinges on the success of the Kansas City experiment. If it tanks, Google could prove reluctant to repeat the experiment in both jurisdictions.
Image: Google