[caption id="attachment_9795" align="aligncenter" width="494"]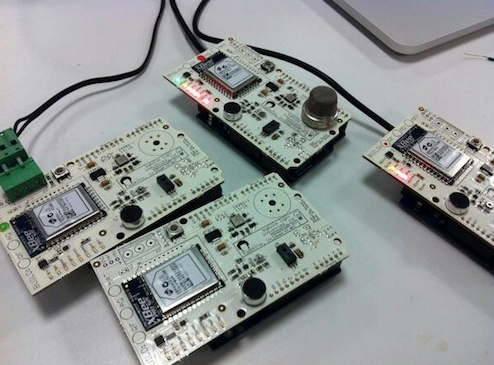 If you're attending I/O, chances are good this hardware is recording at least some of your movements.[/caption] When the Google I/O 2013 conference kicks off May 15, the crowds of developers and Google-philes swarming San Francisco's Moscone Center will find themselves involved in a massive Big Data experiment, courtesy of the Google Cloud Platform Developer Relations team. "Since we love open source hardware hacking as much as we love to share open source code, we decided to team up with the O'Reilly Data Sensing Lab to deploy hundreds of Arduino-based environmental sensors at Google I/O 2013," read a May 13 post on Google's
Cloud Platform Blog
. "Using software built with the Google Cloud Platform, we'll be collecting and visualizing ambient data about the conference, such as temperature, humidity, air quality, in real time." The resulting network will incorporate more than 4,000 continuous data streams. Sensors will detect fluctuations in noise level, according to the posting, "and some will be attached to footstep counters, to understand collective movement around the conference floor." Google plans on posting the project's data, Cloud Platform code and even the Arduino hardware designs online after the conference. As with all things I/O-related, the project is meant to promote a particular Google initiative: Google Cloud Platform, with its carious tools for building applications that collect and analyze data from client devices. Those tools include Google App Engine Datastore and Google Cloud Endpoints, the latter a scalable front-end API. The platform relies on the (recently upgraded)
Google Compute Engine
to actually crunch data, along with
Google BigQuery
. Those attending I/O will have the chance to see some of the visualizations derived from the data, courtesy of screens around the event. Sensors have emerged as a crucial element in many companies' Big Data strategies. Industrial concerns such as General Electric and
Boeing
use sensors linked to analytics and diagnostic software in order to solve engineering issues;
ingestible sensors
are an area of growing interest for biomedical firms attempting to develop new medicines and treatments.
IBM has been particularly aggressive in developing sensor technology
, driven by the belief that billions of sensors will be connected to the Web over the next several years. Google clearly wants to play in that particular sandbox. And if it wants to demonstrate its sensor-related skills, I/O is a good venue for it to do so.
Image: Google