[caption id="attachment_16051" align="aligncenter" width="600"]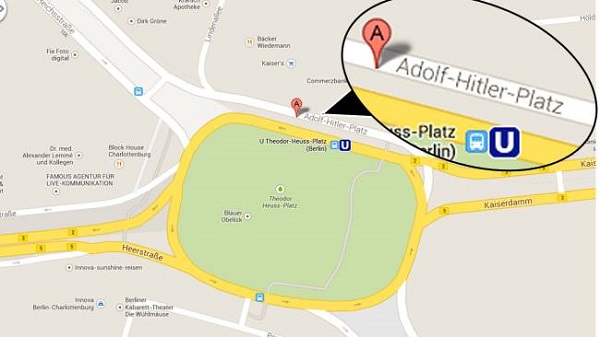 Google apologized for mistakenly giving a Berlin street a name ditched in 1947.[/caption] During the same week Google researchers announced an unprecedented ability to pull accurate location data from StreetView photographs, its Google Maps division apologized for accidentally renaming a Berlin street after Adolph Hitler. "We apologize for this mistake," said Lena Wagner, a spokeswoman for the German unit of Google, in response to complaints that Google Maps had dropped the current name of a western-Berlin street called Theodor-Heuss-Platz in favor of the name it wore during World War II: Adolf-Hitler-Platz. Wagner said it's not clear how the mistake was made, or even why the data that generates Google Maps includes the old name, which it was given in 1933, when it was featured in Nazi Party plans to rebuild that whole area of the city into a showplace for its new regime. Residents ditched the name in 1947 in favor of the square's traditional name Reichskanzlerplatz. It got its current name in 1963 after residents agreed to name it after Germany's first post-war president. The goof "sparked outrage" in German media and social networks,
according to RawStory.
"How could this happen?"
screamed a headline in the popular German daily Bild
(link courtesy of Google Translate. German daily BZ actually broke the story, according to Bild, but the Google Translate version of the BZ story is almost incomprehensible.) This isn't the first time the German edition of Google Maps has been hacked. Several years ago, someone made the famous cathedral in Cologne disappear entirely, according to Raw Story. On a more legitimate front, a team of Google researchers working on more accurate ways to pull textual, computable data from visual sources was able to demonstrate a way to use
neural networks to extract nearly 100 million street addresses from Google Street View
images taken all over the world. In a
paper posted Jan. 1,
the team described how it trained 11 layers of convolutional neural network to examine individual pixels in the images that make up Google Street View to be 98 percent accurate in the street numbers it could recognize within a set of images covering most of France. In a dataset that included tens of millions of street-number notations from countries all over the world, the network was accurate in 90 percent of the guesses it made. Using Google's infrastructure for its compute power, the finished version of the tuned network was able to annotate all of France in an hour,
the researchers told MIT Technology Review.
Esoteric as the manipulation and education of a neural network sounds, pulling street addresses out of photos is a particularly difficult example of the kind of data transcription Google is working on for augmented-reality applications such as the mobile version of Google Translate, which translate signs from one language to another while the user is walking around, or do high-speed OCR that turn documents a user can photograph into text documents that can be edited and stored as regular text, not to mention handwriting recognition and other ways to pull meaning from images. It also makes geo-location of photographs much easier, according to Ian Goodfellow, who led the research team. As long as no one messes with the data later for their own lulz.
Image: Bild