[caption id="attachment_16761" align="aligncenter" width="618"]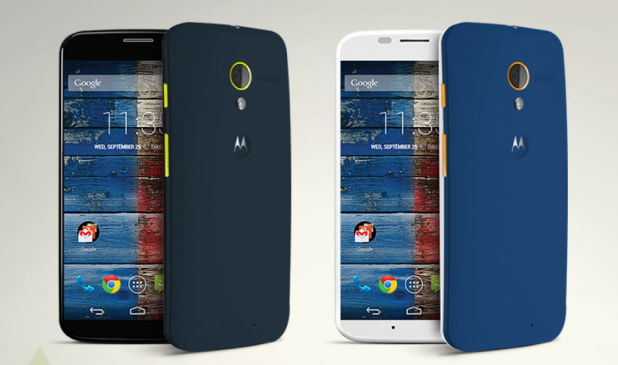 The Moto X.[/caption] In August 2011, Google announced it would purchase Motorola Mobility for $12.5 billion. At the time, Google framed the purchase as a protective maneuver. "We recently explained how companies including Microsoft and Apple are banding together in anti-competitive patent attacks on Android," Google CEO Larry Page wrote in a
blog posting
. "Our acquisition of Motorola will increase competition by strengthening Google's patent portfolio, which will enable us to better protect Android from anti-competitive threats from Microsoft, Apple and other companies." Motorola's assets included 17,000 patents, with roughly 7,000 pending on the day the deal closed. The company also boasted a decent track record in hardware manufacturing, with early versions of its Droid smartphone proving a reasonable success. But Google never seemed to quite know what to do with its new toy. For starters, the patents quickly proved less useful than Google executives perhaps expected: the intellectual-property wars over mobile software continued apace, with Apple and other manufacturers gleefully hammering Android with patent-infringement lawsuits. And when Motorola went on the offense against Microsoft, insisting the latter pay around $4 billion per year to keep using patents related to H.264 video and 802.11 WiFi standards,
it found itself virtually laughed out of court
. At the same time, Google seemed reluctant to push Motorola phones, most likely fearing that other Android manufacturers would react badly to any signs of favoritism. As a result, Motorola's Droid line failed to stand out in a crowded marketplace, despite some innovative advertising campaigns. Google seemed to put more effort into its hardware subsidiary in 2013,
with the launch of the Moto X
, but it was a case of too little, too late—despite a massive marketing push ($500 million,
according to one early source
), a flurry of aggressive price-cuts suggested that customer sales
were anemic
. So now Google's selling Motorola Mobility to Lenovo for $2.91 billion. Larry Page's official blog posting on the matter echoed the one he penned after the initial acquisition. "We acquired Motorola in 2012 to help
supercharge the Android ecosystem
by creating a stronger patent portfolio for Google and great smartphones for users,"
he wrote
. "And on the intellectual property side, Motorola's patents have helped create a level playing field, which is good news for all Android's users and partners." But Google apparently has other things to focus on. "The smartphone market is super competitive, and to thrive it helps to be all-in when it comes to making mobile devices," Page added. "It's why we believe that Motorola will be better served by Lenovo—which has a rapidly growing smartphone business and is the largest (and fastest-growing) PC manufacturer in the world." Google will continue to devote resources to developing Android software, and has no public plans to increase its spending on other hardware efforts, including its Nexus tablets and smartphones. Google had previously sold Motorola's Home division for $2.4 billion. Combine that with yesterday's sale of Motorola's remaining assets, subtract the acquisition price for the company back in 2011, and Google's little smartphone adventure cost it roughly $7.1 billion before you start throwing in expenses related to actual production, marketing, and personnel. (That back-of-the-envelope calculation excludes any cash belonging to Motorola at the initial acquisition.) That's a hefty chunk of change, but some analysts think the deal was ultimately a good one. "Google got what they wanted/needed from Moto—they got patents, engineering talent and mobile market/device insight," Jack Gold, principal analyst of J. Gold Associates, wrote in an email. "They don't need to be in the device business, and it got them into some hot water with their leading OEMs." The Motorola deal spares Google a lot of channel conflict, he added, and gives the search-engine giant "the ability to concentrate on real opportunities without the diversion of having to run a device manufacturing company." Between the Motorola deal and its recent acquisition of IBM's server business, meanwhile, it's increasingly clear that Lenovo intends to become a global hardware player, with a bulked-out portfolio that places it in direct competition with Hewlett-Packard and Dell. And Google can console itself with the thought that so many of its other acquisitions—including YouTube and DoubleClick—resulted in massive profits. But you can't hit a home run every time you step up to bat.
Image: Motorola/Google