[caption id="attachment_15010" align="aligncenter" width="618"]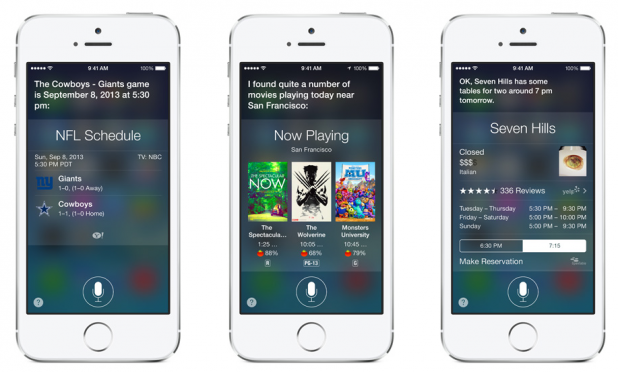 Apple's Siri in action.[/caption] Piper Jaffray analyst Gene Munster decided to put Apple's Siri and Google Now in a head-to-head contest, testing the voice-activated assistants to see how well they responded to 800 different queries in five different categories (OS Commands, Information, Navigation, Local, and Commerce). How did the systems fare? Google Now answered questions from the Commerce, Local, Navigation, and Information categories with greater accuracy than Siri, although the latter scored much higher when it came to OS Commands. That placed the two systems virtually even, at least according to Munster's scoring system. "We believe that our test suggests that Google Now and Siri are comparable in terms of understanding the spoken queries and returning the correct result," he wrote, as
quoted by CNet
. "In our test, both Google Now and Siri both correctly understood 94 percent of total queries regardless of environment (noisy or quiet). In terms of accuracy of answer, we determined that Google Now accurately answered and understood queries 81 percent of the time compared to 83 percent for Siri, but when factoring in all queries, both Google Now and Siri answered 79 percent of queries." Of course, each assistant has its adherents; many people swear that Google Now is superior, for instance, because it can leverage the user's Google account to anticipate requests—for example, it will pop up "cards" that show a package en-route, or when a flight's about to leave. Apple's added features to Siri that make it more of a comprehensive platform (for example, it'll tell you the scores from last night's football game, or showtimes at local movie theaters), but it could have trouble further personalizing those capabilities without more access to user information. Nor are Google and Apple the only companies in the arena:
According to ZDNet's Mary Jo Foley
, Microsoft is working on a "Cortana" app (named after a character in the video-game series "Halo") that will allow users to interact with Windows Phones via voice commands; the system will leverage machine learning and other analytics tools to anticipate users' needs and wants.
Image: Apple