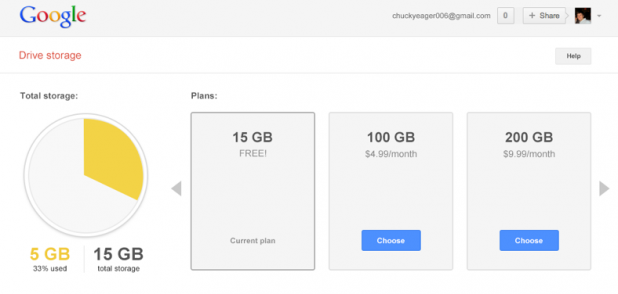 Google is breaking down the walls between its products still further, allowing users to slosh the storage from their Gmail, Drive and Google+ Photo accounts into a 15GB common pool. "Separate storage doesn't make as much sense anymore," read a May 13 note on the
Google Drive Blog
. "So instead of having 10 GB for Gmail and another 5 GB for Drive and Google+ Photos, you'll now get 15 GB of unified storage for free to use as you like between Drive, Gmail, and Google+ Photos." Google's timing for the announcement is certainly auspicious, as the company kicks off its high-profile Google I/O conference later this week. Google Apps customers get a somewhat sweeter deal, with 30 GB of unified storage between Drive and Gmail. "With this new combined storage, you can use your storage how you need to," read a note on the
Official Google Enterprise Blog
. "If your business or school is like most, you know how many important emails and attachments you receive every day." Despite its massive size, Google faces some formidable competition in the cloud-storage space from Dropbox, Amazon, Apple, and smaller firms.
In a March survey of 2,300 "connected Americans,"
research firm Strategy Analytics found that 27 percent of respondents had used Apple's iCloud. Dropbox came in second with 17 percent, followed by Amazon Cloud Drive at 15 percent and Google Play at 10 percent. According to Strategy Analytics, some 90 percent of those users apparently rely on cloud storage for music; even Dropbox, which lacks a storefront or media player for purchasing and playing songs, is often used to store songs and albums. All that being said, the research firm also found that roughly 55 percent of "connected Americans" have never used a cloud-storage service. That's a lot of room for Google to expand its services. Google also faces challenges from rival firms buttressing their respective offerings with new features.
Take Dropbox's recent purchase of Mailbox
, the makers of a popular mobile app for managing email; it's all but certain the company will use the assets from that acquisition to improve its own offerings. Despite the omnipresence of vendor lock-in—once a consumer or business has their data stored with a particular IT firm, they're reluctant to go through all the effort necessary to extract it again—it's still possible for a company with superior offerings to poach customers from a rival. Google likely hopes that pooling its storage offerings will help keep it a step ahead of those giant rivals offering similarly generous GBs of space. But it's also a way for the company to stay ahead of younger upstarts.
Image: Google