[caption id="attachment_5535" align="aligncenter" width="547"]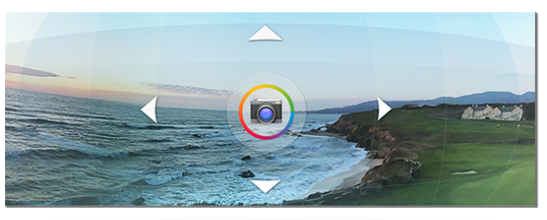 Photo Sphere, a new feature of Android 4.2 (which Google calls a new "flavor" of Jelly Bean).[/caption] Hurricane Sandy may have forced Google to cancel its Oct. 29 event in New York City, but it couldn't stop the search-engine giant from unveiling the Android devices it meant to debut onstage. The devices include the
Nexus 4
, a quad-core smartphone that Google developed hand-in-hand with LG Electronics. The device features a 4.7-inch screen, placing it in league with other super-sized smartphones appearing on store shelves these days. It runs Android 4.2, a new "flavor" of Jelly Bean that includes features such as Photo Sphere—for shooting mega-panoramas—and Gesture Typing, which allows the user to slide their finger over the virtual keyboard to generate words,
Swype-style
. Google is also upgrading the
Nexus 7
tablet. The 16GB version of the 7-inch device is now $199, and is joined by a 32GB version retailing for $249. There's also the option of HSPA+ mobile in addition to WiFi, which adds a bit of cost. Like the Nexus 4, it runs Android 4.2. The
Nexus 10
is a larger, 10-inch tablet that retails for a bit more—16GB for $399 and 32GB for $499—with a 1.7GHz Samsung-built processor, 2GB of RAM, a battery capable of up to nine hours of video playback (and over 500 hours of standby time), and front-facing stereo speakers. Google's unveiling comes a few days after Microsoft officially launched
Windows 8
, which has been designed to run on tablets in addition to PCs. Microsoft's launch, in turn, came a few days after Apple introduced a massive refresh to its laptops, desktops, and tablets. Bottom line: Google's facing a fair bit of competition this holiday season. That flood of new devices on the market will force most consumers into something of a bind: where to spend those holiday dollars? Beyond that, IT administrators and CIOs who work for BYOD (Bring Your Own Device) companies could face some added complexity once those consumers start bringing Windows 8 tablets, Google smartphones, and
iPad Minis
into the work environment.
Image: Google