[caption id="attachment_9307" align="aligncenter" width="500"]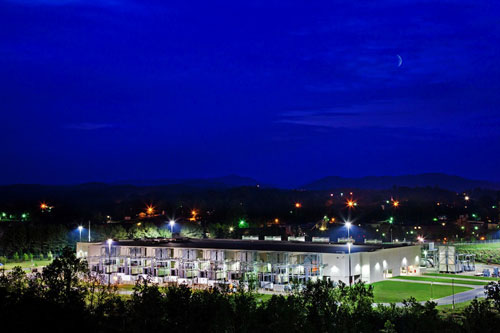 Google's Lenoir, North Carolina data center broke ground in 2007.[/caption] Google plans on investing an additional $600 million into its Lenoir, North Carolina data center, and will work with Duke Energy to provide a renewable energy source for itself as well as other customers. The additional funding doubles Google's investment into the site, which broke ground in 2007. A spokeswoman confirmed the additional funding,
which local news reports
said Google would use to build a third building on the campus. (Last quarter,
Google revealed
that it had spent $1.2 billion in capital expenditures, which includes production equipment, data center construction, and facilities-related purchases.) Although the funding and additional compute capacity will undoubtedly be used to increase Google's cloud-computing strength, one of the more innovative aspects of the deal is Google's creation of a so-called Renewable Energy Tariff program, which allows the company to buy energy from renewable source.
As Google noted in a blog post
, the company has done quite a bit in the name of green energy, from building solar panels atop its corporate headquarters to buying solar energy. It signed twenty-year agreements to put 114 megawatts of wind energy into the grid in Iowa, and 111 more into the grid in Oklahoma (Google's data centers in both states tap into the grid, sucking some of the power for its own use). Google suggested that power-purchase agreements require it to manage the purchases and sale of power on the energy markets, which itself is cumbersome. "This puts Google in the business of managing power scheduling and contracting, when we'd rather spend our resources building products for our users,"
the company wrote in a white paper
. Under this latest agreement, Duke Energy has pledged to develop a new program for large companies such as Google that want to buy renewable power. Duke will file the plan with a state commission within 90 days. (Google previously worked with Duke Energy and Duke University to turn hog waste at a Yadkin County farm into renewable energy.) "Because the service is made available to a wide range of customers, companies that don't have the ability or resources to pursue alternative approaches can participate," Gary Demasi, director of global infrastructure for Google,
wrote in a blog post
. "And by tapping utilities' strengths in power generation and delivery, it makes it easier for companies to buy renewable energy on a larger scale." Sourcing energy from renewable sources can mean more to some companies than others. Recall that the Green Grid set up
a number of new data-center metrics
late last year; one of them, the Green Energy Coefficient, (GEC), is a metric that quantifies the portion of a facility's energy that comes from green sources. While Google may not be trying to max out its GEC rating, others in the Carolinas may want to make the attempt.
Image: Google