Google wants to help you prep for your next big job interview.
The search-engine giant's latest tool, Interview Warmup, uses A.I. to evaluate your answers to practice job-interview questions in data analytics, e-commerce, IT support, project management, UX design, and "general."
Does it work well? That's probably the biggest concern of anyone using it to prep for their next big job interview. The platform does ask questions you'd probably face in a real job interview—for example, the e-commerce queries include background questions ("Why do you want to work in digital marketing?") and situational questions ("You notice a social media post you launched for your company is getting a significant amount of negative comments and reactions. How would you respond internally and externally?"), among others.
However you respond, Google's A.I. scans your answers for most-used words, job-related terms, and talking points. The lattermost is probably the most valuable, because it encourages you to build out your answer with results, examples, lessons learned, and your skills and experience. When the interview ends, you have the chance to review your answers (and the analysis) again. Here's a glimpse of the interface: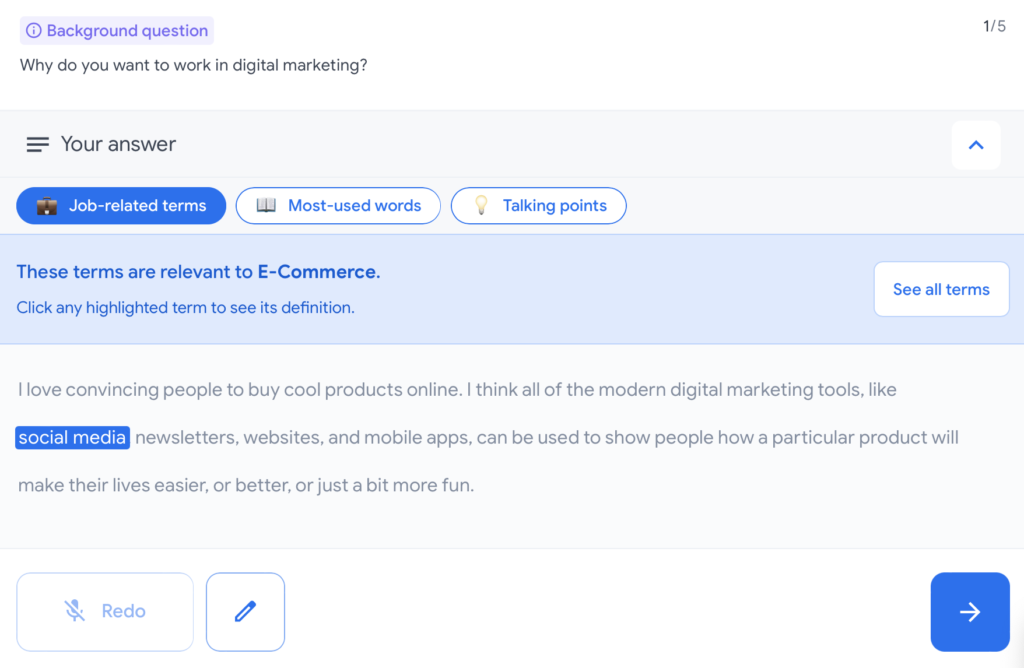 How useful is this tool? That's a great question, and the answer will vary depending on the person. For any technologist who hates interviewing and/or hasn't done it very much, seeing some potential interview questions in advance could help calm the nerves. It may also encourage you to think about your career and skills in ways that will potentially appeal to recruiters and hiring managers—how you'd solve particular problems, for example, or how your background gave you skills companies actually need.
But job interviews are usually much longer and more involved than some questions about your background and how you'd solve certain challenges. For tech-heavy roles such as IT support and data analytics, hiring managers often subject candidates to a battery of tests and highly technical questions, sometimes including "homework" designed to show how you'd work a project or problem.
And while Interview Warmup leans heavily toward generalist questions and answers, potential employers really like it when a candidate can explain how their skills and background will mesh with the organization's specific problems and strategy. Google's A.I. can't really handle that part for you; you need to do your research and really think about how your abilities can help an employer achieve its short- and long-term aims.