[caption id="attachment_2883" align="aligncenter" width="418"]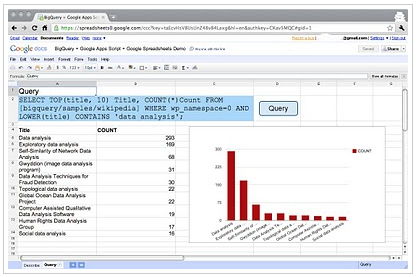 Google's BigQuery is a part of its Cloud Platform Partner Program.[/caption] Google has become the latest IT vendor to offer its infrastructure and services as a commodity for other companies to sell to clients. Considering the search-engine giant's enormous data-crunching capabilities, that could potentially benefit any number of data-analytics companies. "In the last decade, we've invested in building an infrastructure that can serve 4 billion hours of video every month, support 425 million Gmail users and store 100 petabytes of Web index, and it's growing every day," Eric Morse, head of sales and business development for Google Cloud Platform, wrote in a
July 24 blog posting
. "We've taken this technology and extended it via Google Cloud Platform so that you can benefit from the same infrastructure that powers Google's applications." The partner program involves two categories of partner. "Service Partners provide consulting and implementation services on various Google Cloud Platform products," Morse wrote. "Technology Partners provide tools that integrate with Google's platform or use one of our services as a foundation for their products."
According to Google
, technology partners with a B.I. or analytics focus include Jaspersoft, SQLstream, Bime Analytics, Informatica, and Metric Insights. All those companies use Google BigQuery as either the foundation of their products, or else as a means of extending the reach and functionality of their services. Other companies, including MapR Technologies, RightScale, and Unitrends, are leveraging Google Cloud Storage, Google App Engine, or Google Compute Engine as part of their client offerings. Google BigQuery, issued to the general public May 1 after months of limited preview, lets users apply what Google terms "SQL-like query language" to analyze massive amounts of data; it features secure SSL access, group- and user-based permissions via Google accounts, and the ability to scale to trillions of records.
Some analysts viewed the platform
as a way for smaller companies to get into the Big Data game. Google's announcement comes a few days after
Microsoft announced it had set up a platform
through which its partners can offer Infrastructure-as-a-Service (IaaS). Via that platform (created by bringing Windows Azure Web Sites, Virtual Machines, Service Management Portal and APIs to Windows Server), hosting partners will be able to offer customers a variety of services, including virtual machine (VM) and Website hosting.
Image: Google