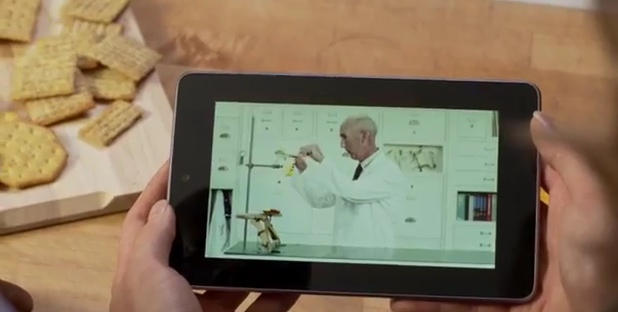 Google's Nexus 7, announced June 27 at the opening of the Google I/O conference, features a 7-inch screen (1280x800 resolution), a Tegra-3 chipset with a quad-core CPU and twelve-core GPU, built-in Chrome browser, and a front-facing camera. It runs Android 4.1, also known as "Jelly Bean." Asus built the Nexus 7, and Google seems determined to catapult it into the 7-inch-tablet arena currently dominated by Amazon's Kindle Fire device (itself an Android device, with a heavily customized user interface that basically makes it a delivery system for Amazon content). Just to underline how it intends to take Amazon head-on,
Google announced
that the Nexus 7 will come preloaded with a range of content, including movies ("Transformers: Dark of the Moon") and music. It will ship in mid-July, and retail for $199—placing it in the same price range as the Kindle Fire. In its continuing bid to become a serious digital-entertainment player, Google has also expanded its Google Play content hub to include magazines, television shows and movie purchases; during the conference, the company boasted of tight integration between the service and the Nexus 7.
"Jelly Bean"
With "Jelly Bean," Google aims to make Android more streamlined, with a more accurate keyboard and voice-typing, redesigned search (including a Voice Search that seems tailor-made to compete with Apple's Siri), and a feature called Google Now that provides information about traffic, the weather, and more based on the user's location and time of day. For example, Google Now can tell an Android user in a transit station which trains are next, or traffic conditions ahead of a morning commute.
Nexus Q and Google Glass
Google used the conference to offer attendees a glimpse of the Nexus Q, a spherical device for streaming music and video throughout a home, controlled by an Android device. There was a high-flying—literally—demonstration of Project Glass, a specially-built pair of glasses that evidently allows video transmission; bikers and skydivers used the technology to pipe live feeds of their P.O.V. to a Google+ hangout displayed on the keynote's giant screen. I/O attendees will have the chance to order a "Google Glass Explorer Edition" for $1,500, which will apparently ship next year.
The Cutting Edge
With this show of product force, Google has bigger targets than Amazon's Kindle Fire or even Apple's iTunes media hub: it wants to convince the world that the cloud has a cutting edge, and that the developers and executives in Mountain View are in firm control of it. However, Google might also be its own worst enemy in that regard, particularly in the context of hardware: after years of other companies pumping Android tablets of varying builds and quality into the ecosystem, can the company convince consumers and businesses that its Nexus 7 is the one to buy?
Image: Google