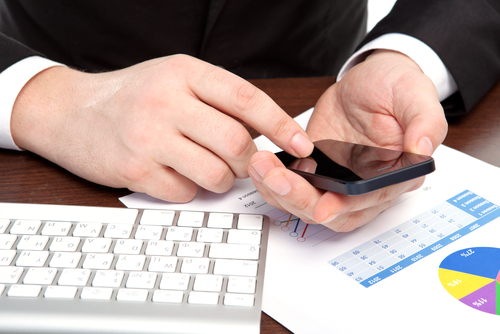 So many consumers have adopted better, faster smartphones and the latest tablets that business leaders are compelled to adopt enterprise mobility as the next big thing in the evolution of business technology. Most companies have invested heavily in enterprise technology and infrastructure that still keeps employees chained to their desks, despite the widespread use of tablets and smartphones they're used to accessing for personal use; enterprise mobility is poised to change that by harnessing the capabilities of mobile devices and wireless networks to bring the advantages of mobility to the workplace without requiring companies to make huge additional investments.
Employees Demand Mobile Solutions
The typical push toward a new technology comes from the IT department, but that's not the case for enterprise mobility. User-friendly devices, systems and apps have sparked a demand from employees—from field personnel to high-level executives—who want the same flexibility and ease of use they've come to expect from their personal computing experiences. Customer convenience, increased employee productivity, enhanced collaboration and improved communication all dangle as the carrots on the end of the stick, propelling companies forward toward enterprise-mobility adoption. Mobility is particularly attractive to companies that want to streamline sales and marketing communication in the field, offer real-time customer support and facilitate communications for executives on the road. Still, fears about compromised security serve as major obstacles on the path toward wider adoption of enterprise mobility.
Getting Started with Enterprise Mobility
As CIOs approach enterprise mobility, their first question is often, "Which mobile OS should I adopt?" The answer is still debatable. Company leaders, enterprise-mobility enthusiasts and the world at large remain divided down the center when it comes to their preferences for iOS or Android. A minority of outliers still await solutions for Windows 8 and Windows Phone 8 devices—a position that is widespread among Microsoft sales professionals, who wield significant influence over organizations' buyers. Such divided platform loyalties mean it's best for enterprise-mobility solutions to support every mobile operating system. Compatibility issues can be winnowed down by issuing devices the company has already screened and approved for functionality with the mobility platform it has selected. But businesses need not issue company phones to take advantage of enterprise mobility, and employees don't have to carry separate phones for business and personal use. "Bring your own device" (BYOD) technology integrates with company security protocols to interface securely with enterprise communication and collaboration software. The protection is a two-way street: In addition to securing sensitive company data, BYOD also protects employees' personal data from potential prying eyes within the company. Many leading enterprises that have adopted the enterprise mobility model have already brought in mobile-device management (MDM) companies such as Airwatch, MobileIron, Afaria or Good SOTI to take ownership of the data on mobile devices. The problem arises in that most employees are reluctant to allow an enterprise to control their privately owned phones—including the personal photos, data, email accounts and social networking stored therein. For practical implementation, companies are using a mix of BYOD and enterprise-bought devices, with MDM capabilities only installed on the company-owned property. The stopgap solution leaves the data security of the non-MDM-enabled devices in question. There's no way to know whether proprietary data is being copied, sent or forwarded to competitors. In most cases, the security breaches aren't malicious; they result from employees eager to get their work done more efficiently. That's where integrated solutions with enterprise security become so important.
Flexible Platforms Offer More Choices and Greater Benefits
New communication platforms are being developed to ride the wave of enterprise mobility and create value for the companies that adopt them. With secure mobile access to enterprise server software and the capability to integrate with any MDM solution, the best of these platforms are becoming indispensable for enterprise-bought devices and BYOD alike. Some solutions even prohibit users from moving restricted data and allow remote management of the sensitive content. The best systems also provide cloud-based administrator portals to manage employee access to data. In more advanced products, seamless functionality with some of the most popular communication and collaboration tools is offered, such as Microsoft SharePoint, Lync, Windows RDP, Print, Dropbox, Google Drive, Cisco Webex, Skype and Google Talk. These new mobile solutions have become extensions of a company's investment in enterprise mobility, providing mobile capabilities for the technology a company already has rather than changing technology to accommodate enterprise mobility.
The Future of Enterprise Mobility
Mobile cloud computing (MCC) is hot on the heels of enterprise mobility software, delivering the benefits of cloud computing to mobile devices. The innovation continues to encourage employees to bring their personal devices into the workplace while their employers save on hardware costs. Current expectations of transparency and accountability will likely shape companies' progressive approaches to management and security issues. Companies hoping to take any further advantage of all the benefits of enterprise mobility are creating mobile apps specifically for employees. Already, 82 percent of North American businesses have done so. Their efforts pay off for employees' current approach to work-life integration. The trend requires either the development of apps that will work well on the array of mobile devices employees bring to the workplace or a limited menu of acceptable devices for use with company BYOD systems. As with any sweeping change in technology environments, enterprise mobility will see its share of successful and not-so-successful innovations and implementations. Smart CIOs will keep close tabs on what's working, both within and without company borders, to learn how to best craft a company system that reaps the highest rewards for its business and its people.
Krish Kupathil is the CEO of AgreeYa Mobility, a mobile-engineering product and service firm headquartered in Mountain View, California, and creator of Onvelop, an intuitive, unified collaboration and communication platform that utilizes licensed Microsoft protocols to provide secure access to enterprise server software.
Image: Denys Prykhodov/Shutterstock.com