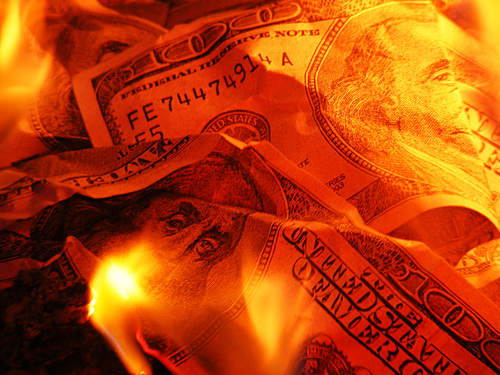 Hewlett-Packard chief executive Meg Whitman isn't exactly taking a summer vacation. Instead, she's doing some late spring-cleaning. This week, financial firm UBS
very publicly argued
that HP could better unlock value by spinning off the printer and PC portion of its business. If that wasn't enough external pressure, the company just took a massive blow to its bottom line, recording a non-cash pre-tax charge of approximately $8 billion for its fiscal 2012 third quarter. The reason? An "impairment of goodwill" related to its Enterprise Services segment—much of it related to HP's purchase of Electronic Data Systems (EDS). HP also expects to record an additional $1.5 billion to $1.7 billion charge against earnings, up from $1 billion, as early retirement plans go into effect. Nor did things look good on the data-center side of things, with HP reporting a 9.8-percent decline in server revenue. Although HP remains the largest server manufacturer in the world, with IDC estimating its factory revenue share at 29.3 percent in the first quarter, it's been hurt by stalled demand for its x86-based ProLiant servers. HP has traditionally used its services business to complement its hardware offerings, optimizing efficiencies in the data center and elsewhere. For HP, the announcement means three things. First, the company will record a great deal of red ink when it reports third-quarter earnings. Second, real revenues will outpace expenses. And third, the Services business is severely underperforming, mostly due to the ripple effects of the EDS acquisition.
A Pricey Error
HP purchased EDS in 2008 for nearly $14 billion as a means of boosting its services business, after a $3.5 billion deal to acquire PriceWaterhouseCoopers' consulting arm fell through. (IBM later bought PwC Consulting for $2.5 billion.) Ron Rittenmeyer, the chief executive of EDS,
promised
that the HP-EDS deal "would create a formidable global competitor" under the leadership of HP's then-CEO Mark Hurd. But the deal was unpopular from the start, with Wall Street questioning whether EDS would generate the revenue and growth needed to justify the largest transaction ever in the services business. Whitman apparently finally sided with Wall Street, writing off most of the value of the deal. "Is this a huge write-off? Yes," Global Equities Research analyst Trip Chowdhry told
Reuters
. "Management is undoing the things that Hurd did—overpaying for something that is not right." HP and its former chief executive, Hurd, also collided last week when HP convinced a California state judge to force Oracle Corp. to continue providing software for HP's Itanium-based servers. The centerpiece of the suit was an agreement struck between Oracle, HP, and Hurd.
Editor's Note: This article has been updated to reflect that IBM acquired PwC Consulting.
Image: isak55/Shutterstock.com