During the recession, IT professionals had to cast a wide net to find job opportunities. Now, all that hard work is yielding multiple offers that are so diverse they can be hard to compare. A typical situation may include a contract gig in a cutting-edge startup versus a full-time slot in an established firm using traditional software and hardware.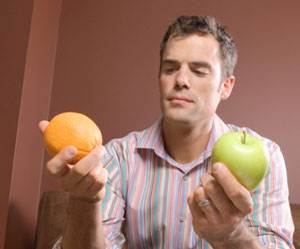 "It really comes down to your values and what you care about,"
says
Daisy Swan
, an L.A.-based career coach who counsels IT professionals. "You have to look at the bigger picture to see how each offer supports your career plan and goals." If you're in this position, here's a checklist to help you compare.
Step One: Establish Goals
Since your priorities should flow from your professional and personal objectives, start by creating a list of goals.
Step Two: Identify Your Priorities
Rank the importance of the job offer components using this scale. 3-Critical: You won't achieve your goals without it. 2-Important: Greatly improves your success rate. 1-Optional: Icing on the cake.
Step Three: Evaluate the Offers
Rank each offer's components: 3-Meets your needs. 2-Meets most of your needs. 1-Falls short.
Financial Rewards: Importance_____ Offers_____, _____, _____
Include the usual suspects like wages, benefits, time off and other compensation such as bonuses, stock options and retirement plans. But also consider out-of-pocket costs like self-employment taxes, education, commuting, relocation and future raises.
Hint:
Remember to customize your priorities. For example, if you're a mid-career professional, a traditional retirement plan might be critical to meeting your financial goals, while a less-experienced worker may value a high deductible medical plan and a larger salary.
Career Enhancement: Importance _____ Offers _____, _____, _____
Want a chance to lead a team, manage offshore vendors, build a mobile app or boost your job security by working in a business unit? Will the company pay for college or certification courses? Does it invest in new technology, offer a variety of projects and promote from within?
Hint:
Unless this is your final job, consider whether you'll be more valuable or less valuable when you leave.
Job Security: Importance_____ Offers_____, _____, _____
Is the company profitable or well-funded? Does it have a history of lay offs or offshoring? Is its sector expanding or consolidating?
Hint:
Consider how long you plan to stay and the impact of a lay off.
Prestige: Importance _____ Offers _____, _____, _____
Does the industry or company have a certain cachet that will enhance your marketability? Are job titles and executive visibility important? Will you have the power to make decisions, suggest ideas or be part of the inner circle?
Hint:
Consider networking and the opportunity to rub elbows with influential contacts, suggests Swan. Having a strong network will pay dividends down the road.
Job Satisfaction: Importance _____ Offers _____, _____, _____
Daily commutes, amenities, the culture, your co-workers and your relationship with your boss influence your job satisfaction. But the actual duties, workload and technical environment define the satisfaction levels for many IT professionals.
Hint
: If you plan to gain experience and move on, job satisfaction may not be a priority, but it's critical if you stay.
Step Four: Evaluate the Scores
When the scores for your priorities and an offer align, you've identified the best opportunity.
Hint:
Remember, goals constantly evolve so keep your priorities updated and occasionally evaluate your current job to see if its time to hit the market.