Hewlett-Packard is taking a page from
Yahoo
CEO Marissa Mayer's playbook
by issuing a call for employees to show up at the office.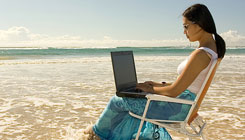 When Mayer put the kibosh on telecommuting earlier this year, my colleague Dawn Kawamoto wondered whether Mayer was the first Silicon Valley CEO to
begin down a path
many others have wanted to follow for a long time. She pointed to Best Buy discontinuing its eight-year-old practice of allowing non-store employees to decide whether or not they wanted to telecommute. While HP isn't banning telecommuting outright,
All Things Digital
says managers are telling workers that if they can work in the office, they should. As many as 80,000 of HP's roughly 300,000 global employees have been working from home, in part because the company didn't have desks for them all within its own buildings, says AllThingsD. Employees who have a demonstrated need to work from home may have to request exceptions to the new policy. Those exceptions most likely will be given to workers who live more than an hour from the nearest HP office. In an email, HP told AllThingsD:
Over the past several years, HP has been focused on developing workplaces that attract employees to the office and encourage effective and collaborative work. Our investments in real estate and IT infrastructure have made it possible to now accommodate more employees in the office and also support new styles of working which we believe will further HP's business strategies and objectives. Flexibility continues to be a core operating principle at HP.
The new policy is part of HP's multi-year turnaround plan, part of which includes
eliminating 29,000 jobs
. Interestingly enough, a recent survey found that many IT workers
were willing to take a pay cut
averaging 7.9 percent if they could telecommute.