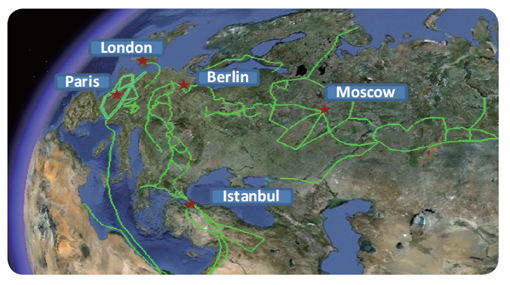 Being restricted from selling telecom equipment in the U.S., Australia and the U.K. doesn't seem to have hurt Huawei's ability to market high-end optical and mobile networking gear, or its reputation among the carriers and enterprises buying it. During the first half of this year, the Chinese telecom and networking equipment vendor outpaced all other vendors in the market for cell-phone network antennas, routers and other mobile radio-access network (RAN) gear. Huawei took 7.2 percentage points of market share from the six other leading global telecom vendors and increased its revenue from RAN equipment sales by 14 percent during the second quarter of this year, to $4.18 billion,
according to an Aug. 21 report from ABI Research.
The increase put Huawei in the No. 1 spot in RAN sales, with a total of 31.1 percent market share, followed by Ericsson, which dropped from the No. 1 to the No. 2 spot by falling less than a percentage point in market share, to a total of 23.4 percent. Huawei also leads the market for optical-networking equipment, which is growing at 21 percent per year, especially in North America, where demand from large corporations for 100Gbit/sec networks propelled 15 percent of all spending on optical networking equipment,
according to an Aug. 19 Infonetics report.
Huawei was the only RAN manufacturer to increase market share during the quarter, even though global sales of RAN equipment rose 4.8 percent during the quarter, to a total of $7.7 billion. The increase in sales and market share represented a recovery from the
fourth quarter of 2012, when its market share dropped 5 percent.
Mobile RAN, which represents a third of the $32 billion spent annually on telecom and networking equipment, is particularly important for telecom vendors due to its size and rapid growth,
said a July 19 Dell'Oro Group market report.
Dell'Oro projects that sales of LTE gear alone will grow 20 percent per year, doubling by 2015 as wireless carriers upgrade from 3G to 4G cell networks. Luckily for Huawei,
the fastest growth in LTE sales will be in Europe and the Asia-Pacific region,
rather than in the U.S., U.K. and Australia, all of which are farther ahead in LTE/4G migrations than most of the 70 other countries Dell'Oro tracks, and all of which have either banned telecom providers from importing Huawei gear for national telecom networks or pressured them to do so. A provision in a spending bill signed into law in March
banned U.S. government agencies from buying Huawei equipment without prior approval from law-enforcement agencies,
due to what a House intelligence committee called a serious risk of cyber-espionage or sabotage. The Justice and Commerce Departments have also pressured U.S. carriers to avoid Huawei hardware, following a House committee report that concluded there is a high likelihood
that hardware may have been compromised to help Chinese intelligence services access U.S. telco networks
(PDF). Former NSA and CIA director and four-star U.S. Army General Michael Hayden helped publicize the issue by
repeating the accusations to media outlets in Australia.
He added his own belief that Huawei's attempts to disprove its potential as a security risk fell "well short of providing any comforting testimony that would make me begin to question the intuitive premise that Huawei presents serious national security risk." Huawei protested, but also announced that the company would aggressively expand its networking and telecom sales outside the United States, with the expectation it could
increase sales by 40 percent during 2013 alone.
Credit: Huawei Technologies Co., Ltd.