[caption id="attachment_5570" align="aligncenter" width="441"]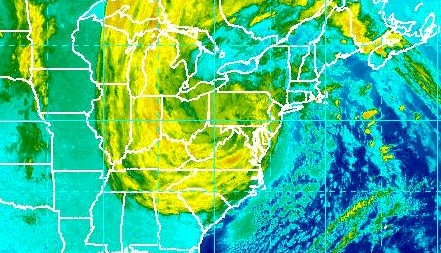 Hurricane Sandy devastates the East Coast.[/caption] Hurricane Sandy barreled ashore Oct. 29 and devastated a wide swath of New Jersey and New York City.
Transformer explosions
and controlled power-grid shutdowns plunged parts of Manhattan, Queens and Brooklyn into darkness. The loss of electricity also took down several Websites and cloud services, as well, including all member sites of the Gawker Media network (including Gizmodo and Lifehacker) and (for a brief time) The Huffington Post. "Gawker is temporarily down because the 57th Street Crane just flooded our servers with sea foam, or something," read
Gawker's official Tweet
on the matter. "Back to you shortly." "We're having technical difficulties due to power outages," the Huffington Post Tweeted. "Working to get site back up." The Website subsequently restored some public-facing services. Multiple companies reported the loss of email servers and other backend infrastructure. IT workers scrambled to bring those systems back online. Data centers operated by Datagram, Internap and Peer1 Hosting were based in lower Manhattan, which is a "Zone A" flooding zone. "Customers of Datagram were knocked offline Monday evening as water flooded the basement of its building at 33 Whitehall," reported
Data Center Knowledge
, knocking Gawker, Buzzfeed, Mediate and other high-profile Websites offline. Over on 75 Broad Street, flooding in a sub-basement disrupted Internap's services. "The flooding has submerged and destroyed the site's diesel pumps and is preventing fuel from being pumped to the generators on the mezzanine level," read the company's
note on Pastebin
. "The available fuel reserves on the mezzanine level are estimated to support customer loads for approximately 5-7 hours. Once this fuel supply has been exhausted the generator will no longer be able to sustain operation and critical customer power loads will be lost." According to
Ars Technica
, Internap was still cut off as of 1 PM EST, and that Steadfast hosting and Init7 were still offline. ConEd, the local utility, is predicting that it could take as long as four days to fully restore power to Manhattan; its entirely possible that it could take several days to bring various Web properties and data centers back to full health, even with secondary sites and redundancies.
Image: NOAA
Related:
Could extreme weather take down the Internet