There's a lot of weirdness going on in space: satellites crashing, sudden
questions about the speed of light
, movies like
Another Earth
and
Melancholia
making us wonder about that smudge we see through the telescope. It's enough to make you long for the good old days, when space was simply exciting and the moon was one big inspiration. Of course we can't turn back time (unless the CERN scientists turn out to be right, but that's a whole other thing). But a company called i3lab offers something that if nothing else can let us take comfort in heavenly bodies. It's
the full moon odyssey floor-mattress & pillow
.
(The) floor-mattress (bed) by korean designer lily suh & zoono of i3lab gives you a dream-like experience as if your are sleeping on the moon. unlike other mattresses, this design breaks down the borders of dream and reality.
Well, um, maybe. I don't know if it'll make me sleep better, but it looks like a nice thing to lounge around and watch
Battlestar Gallactica
on. Maybe I'll dream better if I get the matching "nocturne by moonlight" cushion. That glows in the dark, "just like real moonlight." Cost is &790 plus shipping for the moon, $120 for the cushion. How many billions did NASA spend?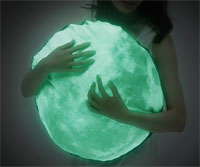 Thanks,
OhGizmo!