[caption id="attachment_6370" align="aligncenter" width="618"]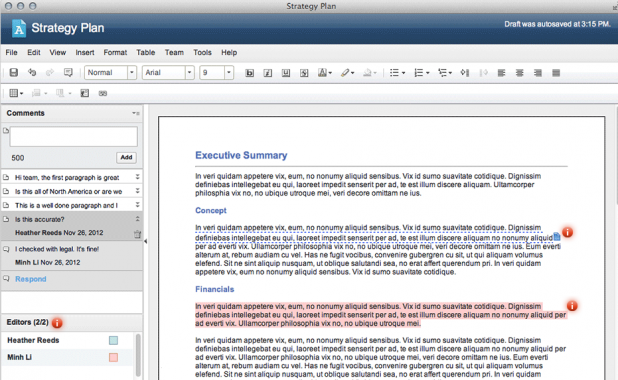 IBM SmartCloud Docs' document-editing tool.[/caption] Not to be outdone in the cloud-storage space by Google and its ilk, IBM is releasing its own cloud-based office productivity suite. The platform, titled IBM SmartCloud Docs, is part of the IBM SmartCloud initiative, which the company is also updating with a variety of new social features. IBM SmartCloud Docs includes the ability to edit spreadsheets, word-processing documents, and slideshows. Users can save their work to IBM's SmartCloud and collaborate in real-time with any online coworkers. IBM SmartCloud's layer of social features includes file-sharing, instant messaging, the ability to set up communities for collaboration, in-office social profiles, and a custom survey- and form-creator. Given its position as a major provider of business software, IBM had little choice but to jump into the cloud-productivity and social-business segments. Microsoft's Office 365 and Google Docs already compete for organizations that want productivity software delivered via the public cloud, and enterprise-software companies such as SAP and Oracle have layered their own offerings with more and more social features over the past several quarters. Earlier this year, for example, SAP introduced
an enterprise-centric social platform named Jam
, which gives organizations the ability to set up a Facebook-like social network for employees. That followed in the steps of Salesforce, which placed social features at the forefront of its business-software development. Even Oracle has gotten into the game to a certain degree,
incorporating a variety of social analytics
into its cloud products. "Today's organizations are looking to collaborate in real time and in context, inside and outside the firewall, to include employees, customers, partners and suppliers," Vanessa Thompson, a research manager at IDC, wrote at the time of SAP Jam's announcement. Whether or not that interest in networking is driven by employees' use of Facebook, any IT vendor that doesn't consider integrating social features into its products risks being left behind. IBM evidently wasn't willing to be left behind.
Image: IBM