[caption id="attachment_6426" align="aligncenter" width="618"]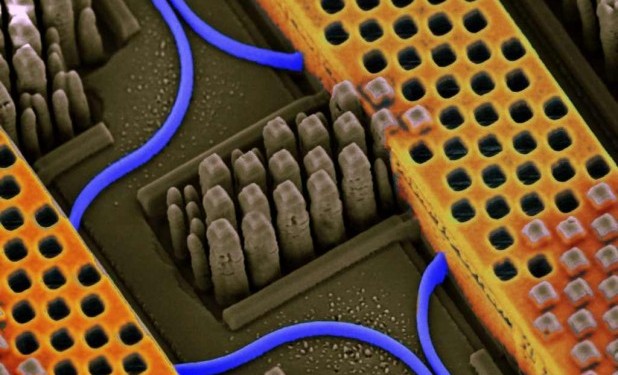 IBM Silicon Nanophotonics technology is capable of integrating optical and electrical circuits side-by-side on the same chip.[/caption] IBM has announced a way to integrate optical components with silicon processors via the same conventional 90-nm fabrication process used to create chips in Xbox game consoles and other devices. These new "silicon nanophotonics" could boost optical networks and ultimately speed up the data center. IBM claims it has successfully manufactured a variety of silicon nanophotonics components—such as wavelength division multiplexers (WDM), modulators, and detectors—and integrated them side-by-side with complementary metal-oxide-semiconductor (CMOS) electrical circuitry. That means single-chip optical communications transceivers can be manufactured within a conventional semiconductor foundry—a significant cost reduction over traditional approaches, according to IBM. IBM's CMOS nanophotonics technology has produced transceivers capable of exceeding a data rate of 25Gbps per channel, with the ability to route a number of parallel optical data streams into a single fiber by utilizing compact on-chip wavelength-division multiplexing devices. "This technology breakthrough is a result of more than a decade of pioneering research at IBM," John E. Kelly, senior vice president and director of IBM Research, wrote in a statement. "This allows us to move silicon nanophotonics technology into a real-world manufacturing environment that will have impact across a range of applications." Nanophotonics technology can dramatically decrease the power consumption of silicon-based computers. Optical fiber can accurately transfer information via photons over thousands of kilometers without the need for repeaters or significant data loss, at speeds far exceeding those of silicon. Add multiplexing to that equation to push bandwidth further, and optical networking looks tremendously appealing from a cost and performance perspective. The European Union, for example,
recently announced PhoxTrot
, a research initiative to into replacing traditional networking components with photonics, which pump photons over fiber-optic cables. But nanophotonics comes with some engineering challenges, most notably how to miniaturize and integrate the lasers and circuitry needed to create dense, integrated and low-cost systems. IBM hasn't said anything about lasers, although third-party innovations—such as an integrated vertical cavity laser developed by Odis Inc.—could help fill that gap. Further details on IBM's nanophotonics efforts will be presented this week by Dr. Solomon Assefa at the IEEE International Electron Devices Meeting (
IEDM
) in the talk titled, "A 90nm CMOS Integrated Nano-Photonics Technology for 25Gbps WDM Optical Communications Applications." IBM's high-end POWER components notwithstanding, IBM's clout in the mainstream chip world has diminished in the past few years; stepping forward into a leadership position within the nascent market for combining photonics and silicon could propel IBM back into the spotlight.
Image: IBM