Looking to 2013, there is one strategic question that I think you should answer: How do you improve your employment security?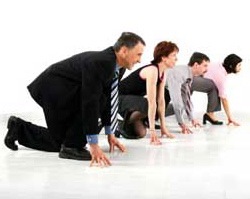 Yes, you need to worry about your
2013 goals
, figure out what projects you are going to work on and determine how to work better with management or your coworkers. But all of that is tactical. Strategically, knowing you are employable relieves a lot of stress. Let's take a look.
Why Employment Security?
My mantra is
employment
, not job, security.
Job security is elusive
. It doesn't matter how terrific you are at your work, that you're ranked number one in your department or that you have consistently produced great business results for your manager. No, if a company decides your department, location, or line of business is no longer needed, you're gone in a New York minute. Employment security depends on five factors:
You have the right skills to do the job
You have an engaged business network
You have great job search skills—both resume-building and interviewing
You are financially secure with money in the bank
That's a tall order, but note that they're all areas you have control over. And if you think about it, clearly you need to present yourself to a potential employer as ready to move into the job, and not have desperation written all over your face in interviews. Without job skills, you will never get the interview. Without showing your business results from your work, you immediately put yourself at a competitive disadvantage to other job applicants. Without an engaged business network, you'll have trouble getting support in your work and won't hear about potential job openings. Without great job search skills, you'll never come across as a strong candidate during the interview—if you even get an interview because your resume isn't right. And without being financially secure, desperation creeps into a job loss, and a hiring manager can see that desperation a mile away.
What Could You Do To Improve Employment Security?
Most of us can do a great deal to improve our employment security. Now is a good time to consider your strengths and areas to improve in each of those five categories so that you know what to work on in 2013. If you look at each of the five factors of employment security going into 2013, which areas could you improve during the year? Maybe it's one thing in each of the categories: add another job skill, create better documentation of your business results, communicate better with your business network, rework your resume, and pay off that credit card. Perhaps after analyzing your work, you'll want to concentrate on one of the areas. Build a plan around what to accomplish in that area for 2013. Whether you concentrate on one of these categories or improve in all of them, getting closer to employment security offers great peace of mind. There is a world of difference between knowing you're ready to look for a new job when a surprise layoff comes, and wondering, clueless, what to do next. There are tactical items to do for 2013: making sure your goals are right, figuring out what training you want, and other stuff as well. Strategically, knowing what to improve to get to employment security is key to having a successful 2013.
Related Links
Employment security trumps job security
[Cube Rules video]