By Alicia Ouverson It's usually best to start your search off more broadly, using fewer filters and then add them in as you go to narrow down your search results. The Advanced Search page on Dice offers several different filters for this. But the most impactful piece of the search is the keyword search string.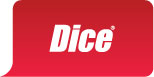 With the Keywords field, you can search by using "match all words," "match any words," or perform a Boolean search. If you're not familiar with Boolean searching, it can help to cast a wider search net and yield more relevant results. Try these searches from the Advanced Search page to see it in action:
Do you have other questions on how to use Dice? Post them in the comments below. Alicia Ouverson is a veteran of Dice's Customer Support department, though she's moved on to become an account coordinator. If you have questions about how to use Dice more effectively, post a comment below and she'll answer it in a future blog post.