A wide array of skills are in demand as the Peachtree City works its way toward economic recovery.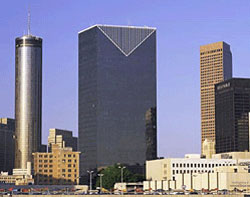 As home to several Fortune 500 companies, a thriving academic community, and a respectable history of technological success, Atlanta has the ingredients to be a tech leader.
Through the recession, it's continued to push forward. "We've been lucky because the overall IT climate here has been improving this year," says Danielle Pasley, branch manager for IT recruiter Sapphire Technologies Atlanta. "We've seen an increase in demand for both contracting and, more surprisingly, permanent placement recruiting. The Atlanta market has recovered faster than many other markets."

The numbers on Dice back up Pasley's assertion.
In October, Atlanta job listings were up 1.4 percent month to month, with more than 2,000 jobs posted. That total is actually up 55.8 percent year to year, the fourth best performance of all the metropolitan areas Dice tracks. (Atlanta's overall unemployment rate stood at 10 percent, a little worse than the current national average of 9.6 percent.)
As for compensation, the latest Dice Salary Survey pegs the average salary at $78,914, up 1.1 percent over last year.

Who's in Demand
What sorts of skills are most in demand? "We've seen a need for Drupal and other content management system developers, PHP developers, and Flash developer," says Pasley. "Other areas are in the data warehousing/business intelligence space (ETL developers, SSIS/SSAS/SSRS, Ab Initio, Informatica, Teradata) and various positions within the security space." In addition, Pasley notes a change from earlier in the year, when .NET developers and ERP experts were more in demand.
Cloud computing has a lot of buzz in Atlanta - there've been a lot of major networking events dedicated to it. Companies taking cloud service offerings to market need both the technical and functional teams to do that successfully. Job titles associated with the cloud range from VMware architects and server administrators to solutions architects and product managers.
Finance is a $34 billion industry in Georgia, so Atlanta is also seeing action within its financial sector, specifically within banking. Pasley notes that the media and entertainment industry has also been booming this year, but telecom, the traditional leader, has been slow, with hiring only now starting to pick up.
Statewide, the Technology Association of Georgia notes the state ranks 10th in the country in terms of high tech employment, with software and IT services yielding most of the new jobs. Security, a $4.7 billion industry, is another local leader.
Through 2010, the T.A.G. had identified network systems analysts, computer software engineers in both applications and systems software, computer systems analysts, and database administrators as the hottest jobs. When exploring the local job market, the group advises, be sure to check out all the venture capital activity to look for opportunities at start-ups. VC money tends to come and go with economic cycles, but there's always something new happening.