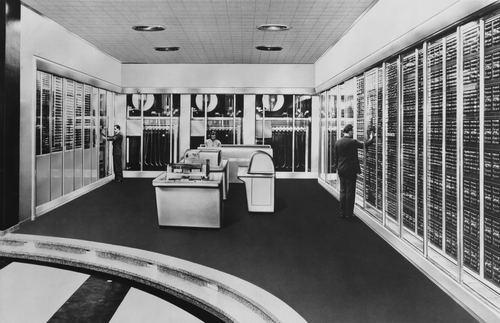 Not too long ago, IT organizations that had invested in mainframes were afraid that IT people with the expertise required to run those systems were about to "age out" and retire. As a result, many firms decided to examine their platform options, which contributed in no small part to a wave of defections to distributed computing-systems platforms. A
recent survey of 350 CIOs, conducted by Compuware
, had 66 percent reporting that they feared the impending retirement of the mainframe workforce would hurt their business by reducing their ability to support legacy applications.
For mainframe-related jobs, click here.
But perception and reality are often at odds with one another when it comes to mainframes. Advances in the tools used to manage the mainframe have not only made them more accessible to a new generation of administrators, but many of the arcane manual functions that once required an administrator to master are increasingly automated. Because of these advances, it's increasingly common for organizations to converge functions across distributed computing and mainframe management teams that were once completely separate. The mainframe platform itself, however, doesn't appear to be going away anytime soon, no matter what the age of the workforce. A
recent survey of 1,200 mainframe customers
conducted by
BMC Software
found that 91 percent of all respondents viewed the mainframe as a long-term strategic platform, with 61 percent expecting growth in their environment in the next two years. Mobile computing is a major factor in that growth. As people make greater use of mobile applications, they wind up driving more transactions on the mainframe systems that are routinely used to run most large-scale transaction-processing applications. "The number of MIPs being consumed on mainframes is actually increasing," said Jonathan Adams, vice president of ZSolutions for BMC Software. "A lot of that is being driven by the growth in mobile transactions."
Upload Your ResumeEmployers want candidates like you. Upload your resume. Show them you're awesome.
Given the continued demand for mainframes, you might expect an accompanying demand for IT professionals with mainframe skills. But Joe Clabby, president of Clabby Analytics, an IT market research firm, suggested there is no sign of that: "If there was a shortage of mainframe talent, salaries would be going through the roof… That is clearly not happening." A big part of the reason for that is
IBM's
decision to
help fund over 100 mainframe university programs in North America
alone, in order to make sure the supply of mainframe IT talent remains relatively constant (especially in a global IT market, where, for example, ongoing maintenance of
COBOL
applications can be outsourced to almost anywhere in the world). While companies such as BMC and CA Technologies have invested in similar academic initiatives, they have also moved to put their own accelerated training programs in place, as well. "We've taken 18 months of mainframe academic training and reduced to about 8 weeks of immersive training," said James Dorney, vice president of education for CA Technologies. "When customers want to fill a gap they don't want to wait for somebody to complete a university program." Dorney also noted that organizations, when it comes to mainframes, are looking for a different kind of IT professional than in the past, ones who can manage hybrid environments consisting of both mainframes and distributed-computing platforms. As part of
its celebration of the recent 50th birthday of the mainframe
, IBM reported that
Linux
is now running at about 40 percent of all mainframe customer sites, and that 80 percent of IBM's top 100 mainframe customers are running Linux on the mainframe. Combine all that with higher levels of automation, and it becomes clear that demand for IT professionals with mainframe skills is evolving, rather than expanding or diminishing. Rather than recruiting IT staff with the exact same skills to replace those workers, organizations are clearly forced to look for new ways to support new and existing applications on the mainframe with the same number, or even fewer, IT professionals.
Related Articles
Image: Everett Collection/Shutterstock.com