Intel's media arm has opened offices in New York and Santa Monica as it pushes forward with its Internet television service, which is set to launch later this year. In an interview with Dice News, company Spokesman Jon Carvill said the offices are meant to "give us better proximity to our content partners." The offices put Intel Media closer to the TV networks and production studios. However, Carvill declined to comment further on details about Intel Media, the offices or possible hiring at the locations.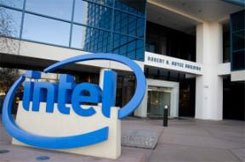 A number of
key acquisitions
have moved Intel closer to the end-of-year launch of its Internet-television service. In February, the company purchased Seattle-based mobile startup Daily Interactive Networks. In 2012, it acquired Emeryville, Calif.-based design studio Archetype and San Jose-based startup Avtrex. Intel Media's Internet television service, reportedly to be named
OnCue,
will work through a set-top box. But its ability to go head-to-head with established cable providers has
left a number of industry insiders in doubt
. The company has also sent mixed signals about Intel Media. In June, Chief Executive Brian Krzanich talked about the need for Intel to
focus on chip manufacturing
and take a more cautious approach to Internet television. Erik Huggers, Intel Media's Chief Executive, has argued that the company's vast programming resources and tech acquisitions are
the key to making a go at Internet television
effort. Huggers became Intel Media's Chief Executive in 2011, after serving as Corporate Vice President of Intel's Digital Home Group. Huggers previously held the post of Director of the BBC's Future Media and Technology division.