[caption id="attachment_4786" align="aligncenter" width="600"]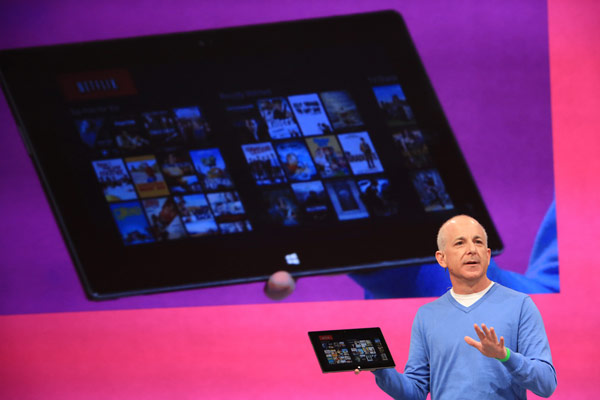 Steven Sinofsky, president of Microsoft's Windows and Windows Live Division, demonstrating a Surface tablet.[/caption] In an utterly unsurprising turn of events, Intel is pushing back against
a report
that CEO Paul Otellini criticized Windows 8 in a private meeting with employees. Terming that report "unsubstantiated," the official statement from Intel claimed Otellini "is on record as saying 'Windows 8 is one of the best things that ever happened to Intel'" and that Microsoft's next-generation operating system will find its way onto "the huge wave of exciting new Ultrabook, tablet and convertible device innovations coming to the market."
The earlier report from Bloomberg
, which drew from an anonymous source, had Otellini telling employees in Taiwan that Windows 8 still needed improvements.
As pointed out yesterday by SlashCloud
, this isn't the first time an Intel executive has said something controversial about Windows 8. Renee James, senior vice president and general manager of Intel's Software and Services Group, told a company investor meeting in May 2011 that the ARM-based version of Windows 8 wouldn't run legacy programs, prompting Microsoft to term her comments "factually inaccurate and unfortunately misleading." Microsoft is releasing that ARM-based Windows (known as Windows RT) in a bid to corner a piece of the mobile-device market, which is dominated by the architecture. However, that deviation from Intel exclusivity has led to speculation that the longtime alliance between Windows and Intel's processors, often referred to as "Wintel," is starting to crumble. "Microsoft and Intel once marched shoulder to shoulder, dominating the PC market with their closely tied operating system and microprocessor technologies," Craig Stice, senior principal analyst compute platforms at research firm IHS, wrote in a Sept. 4 note. "The smartphone influenced the tablet, the tablet influenced the PC, the PC wants to become more like a tablet and the tablet more like a PC," he added. "It's a vicious circle in which both Intel and Microsoft must take part, but they are losing control of the game and how it's played." The IHS forecast model has the two companies' respective market shares continuing to decline through next year before flattening out, with Microsoft ultimately faring better over the long run. As part of its tablet strategy, Microsoft is also taking a page from Apple and building its flagship Windows 8 device in-house. The Surface tablet is one of the company's relatively infrequent attempts at masterminding both the software and hardware of a particular product; one edition will run Windows 8 Pro powered by a third-generation Intel Core processor, while the other will run Windows RT. Both Surface tablets will include 10.6-inch screens with a kickstand and flexible cover that doubles as a keyboard. But there are signs that Surface is making Microsoft's hardware partners a little bit nervous.
Acer spokesperson Henry Wang told reporters in August
that "Microsoft's launch of its own-brand products is a negative for the whole PC industry," and Microsoft's own annual Form 10-k filing with the Securities and Exchange Commision (SEC) suggested that Surface could affect OEM commitment to the Windows 8 platform. On top of that, Microsoft remains squirrely about Surface's price and availability. All of those factors could make for a very interesting Windows 8 launch. Microsoft, of course, is hoping it has another Windows 7, and not Windows Vista, on its hands.
Image: Microsoft