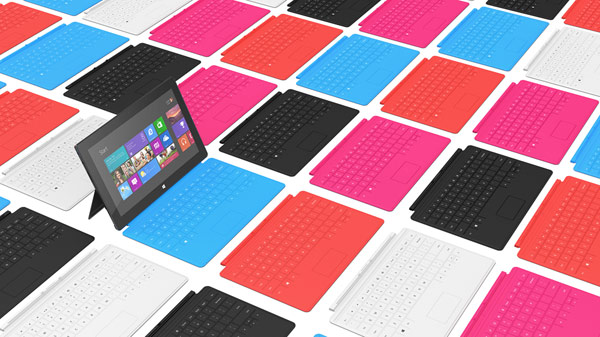 Earlier this week, Microsoft made its upcoming Surface tablet available for pre-order. The 10.6-inch device, which runs the next version of Windows and features a flexible keyboard cover, will compete this holiday season against Apple's iPad and a variety of Google Android tablets. However, there's a sizable twist: the Surface currently available for pre-order runs Windows RT, a version of the operating system designed to run on ARM architecture. Windows RT looks virtually identical to Windows 8, which, like previous versions of Windows, runs on the x86 architecture that dominates the laptop and desktop market. Microsoft's early marketing materials aren't exactly highlighting that differences between Windows RT and Windows 8—and as a result, there's a high potential for unsuspecting consumers to end up burned when they buy a Windows RT tablet expecting the complete Windows experience. But Windows RT won't support legacy Windows applications—instead, users will need to hope and pray that developers port those applications to the Windows Store, the only venue for RT-supported apps. In light of that, the new Surface tablets probably aren't the best bet for businesses with a lot of Windows applications and an interest in buying something ultra-portable for their workers. Instead, those businesses will need to wait until January for that version of Surface to hit the market (provided, of course, they don't opt for a Windows 8 tablet built by another manufacturer). Nor is Windows RT the best bet for consumers who want to port their current Windows software portfolio onto a new, portable device. Instead, the new Surface is probably best suited for those intrigued by Windows' new, tile-centric interface, and have faith that Microsoft and its third-party developers will expand the apps portfolio beyond the few-thousand apps currently on offer. Surface-with-RT
does
come with Office 13, which makes it useful as a productivity tool—but that's not the only software many people need to get through the workday.
Windows RT also doesn't include Windows Media Player
, Windows Media Center, HomeGroup creation or Domain join. That could be a sizable turnoff for any potential user with an affinity for those services.
Over at The Verge
, the intrepid Sean Hollister asked eight Microsoft Store representatives about the differences between Windows 8 and Windows RT, and received several confusing responses. "To their credit, half of the representatives admitted that Windows RT wasn't as capable as Windows 8," he wrote. "The other half... not so much. Moreover, those reps who did admit issues seemed dismissive of Windows RT as a whole." Microsoft later told Hollister it was training Microsoft Store employees to "proactively ask questions so they can help recommend the right device for customers," with each employee receiving 15 hours of training. But this close to the release date, the effectiveness of that training remains to be seen; if online forums flood with complaints from Windows RT owners about the inability to run certain types of software on the device, then it'll be clear that the message isn't getting through to consumers.
Image: Microsoft